Now and Then – Hancock and Independence Day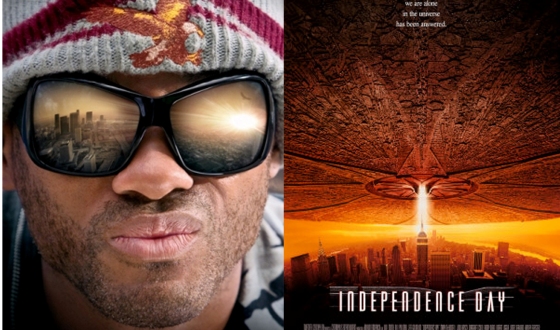 Hancock and Independence Day" width="560″/>
Now: Hancock (2008)

Then: Independence Day (1996)

Flawed hero.

Flawed movie.
This Fourth of July weekend, the biggest — and bravest — movie on screens was Hancock, Peter Berg's action film starring Will Smith. The kernel of the pitch is that Smith's superhuman is all too human — a boozy, woozy loser who does as much harm as good. On the surface, Hancock reminds us of another big budget Will
Smith scifi adventure that opened on the Fourth of July, 1996's Independence
Day. But one is
an utterly unoriginal collection of movie cliches and the other breaks
type and new ground. Guess which one audiences preferred opening weekend?
Box Office vs. the Critics
Actually, both movies stormed the box office, with Independence Day taking in
over $50 million, but Hancock did even better with, apparently, a healthy $66
million premiere, despite a less than positive critical response. (It's Will Smith's fifth movie to open the July 4th weekend at No. 1.)
The fact that Hancock tries to do so many new things — including using super-heroics as a metaphor for everything from personal responsibility to race relations — has critics confounded; as I write this, Hancock's Rotten Tomatoes page has the film at a depressing 36% "Fresh" rating. Smith's first Fourth of July weekend blockbuster, Independence Day, scored a 62% "Fresh" at Rotten Tomatoes. Here's why the critics are wrong to rate Hancock below Independence Day, and audiences voting with their wallets are right to go see it.
Larded On Cliche vs. Genre Buster
While Hancock's seen as a critical failure, it's a far more interesting movie than Independence Day. It isn't that Independence Day somehow fails to give audiences what they want; it's that Independence Day
only gives audiences what they want — Bill Pullman's classic speech
from the wing of his fighter plane, massive special effects
destruction, and the finale: A cigar-smoking Jeff Goldblum and Will
Smith swaggering out into the sunset.
Done well, I love all that; problem is, it isn't done well. Independence Day is lazy and hazy and larded with moments where you're expected to turn off your brain and simply go along for the ride.
Hancock,
on the other hand, gives you the unexpected; it's a relationship drama
and social metaphor that only happens to be wearing tights and flying
around. Director Peter Berg's career is full of movies that aren't what
they look like: Very Bad Things looks like The Rundown
looks like a no-brainer Dwayne "The Rock" Johnson vehicle, but is one
of the most innovative (and overlooked) action movies of the past
decade; Friday Night Lights
looks like a underdog sports movie but really is a kitchen-sink drama
about life in small-town America. None of these films performed as
their backers hoped they might. Hancock may finally break that pattern.
What It Means for Will Smith
Independence Day made Will Smith a scifi star. Afterward, he made two Men in Black movies and, later, I Robot, — movies in which his character generally fits the same mold of cocky comic book hero. After Hancock,
it'll be interesting to see what he decides to make next, having added emotional layers to his super-powers. (He's already
slated to appear in two dramas.) Will he listen to audiences and keep pushing the envelope or retreat into the formula that first made him a success?
Read More