New Biofeedback Technology Puts Telekinesis Closer in Our Grasp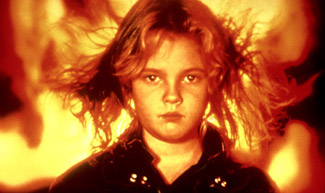 The ability to manifest and control fire had been a traditional comic book fantasy long before little Drew Barrymore ever exploded her first cinderblock. What movies like Firestarter imply is that our brains have the natural ability to manipulate certain strange elements — and while technology has a way to go before we're all heating our own homes telepathically, here you can see artists from False Prophet Labs control jets of flame using Emotiv's new EEG technology.
The New York Times reported recently
that this technology has already begun to emerge as the next frontier
in video gaming and computing, allowing players to move and
interact onscreen using just their thoughts. And though the first
rounds of research involved implanting electrodes into the brains of
monkeys, for human purposes, the utilization will be completely
non-invasive. And better still, says the research and development
manager of Emotiv,Geoffrey Mackellar, with "constant feedback, the machine learns more about how users think just as users grow more skillful at concentrating"
Before long, you'll be able to type letters, slay dragons, and move
boulders without lifting a finger — and depending whether you have any
gas jets to hook your headset up to, you just may get to experience the
thrill of brightening a room just by thinking flammable thoughts.
Read More