Michael Douglas, Facing Our Fears on Screen Since 1987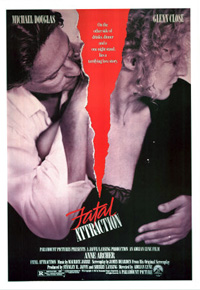 Ever since he discovered the boiled bunny left by his demented ex-lover in 1987's Fatal Attraction, Michael Douglas has played on-screen victim to some of our deepest, darkest fears. His zeitgeist-grabbing roles have tackled the dangers of adultery (Fatal Attraction, Disclosure ), urban tension and uneasy race relations ( Falling Down ) and the fear of the sexual power of women ( Basic Instinct , The War of the Roses ). More so than any other leading man, Douglas's career choices have focused on society's hot-button issues, exposing our inner terrors.
And though Douglas has established himself as an A-list actor, it's
interesting to note that in his thrillers, he's often played the patsy
to the horror he encounters. One could argue he causes his own
misfortune in Fatal Attraction — but more often than not, Douglas finds himself the unwitting pawn in someone else's game. (Literally in, uh, The Game .) Basic Instinct's Catherine Tramell plays Douglas from the moment he first eyes her on the lawn of her opulent mansion. Much like Fatal Attraction, Instinct
hit on taboos of sexuality and reversed gender roles. It was Douglas'
most controversial film, and one that scared audiences on multiple
levels.
But Douglas' horrors aren't just limited to one-on-one
relationships. He's also familiar with being the victim of larger,
darker forces at work. In Star Chamber , it's a secret cabal of vigilantes taking the law into their own hands. Years later, Douglas would play the vigilante in Falling Down, fighting against a society that has repressed him to the point of madness. Even in Traffic , Douglas is a cog in the global drug enterprise that consumes his own daughter.
While he's been quiet of late, content to be with his family and appear in the occasional small film ( King of California , It Runs in the Family),
Douglas has had his finger on the pulse of our fears for the past three
decades. Few major stars have his knack for choosing films that can
both scare and thrill us simply through their ideas.
For a complete schedule of Basic Instinct on AMC, click here.
For a complete schedule of Fatal Attraction on AMC, click here.
Read More