Menacing Primates Don't Begin and End With King Kong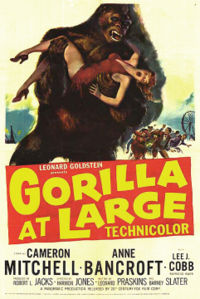 Hollywood has long been fascinated with gorillas. Maybe it has something to do with the fact that they're the closest we've got to cousins on the evolutionary chart. Yet these primates (and their kin) don't inspire familial feelings in moviemakers. To the contrary, they often pose as a threat! King Kong (in its many iterations) and Mighty Joe Young (both versions) are, of course, the standard bearers of the menacing monkey movie, but there are plenty of other examples. Here are four worth watching.
1. The Ape : The titular simian in this movie is a circus animal on the loose who meets his match in doctor Boris Karloff, out to cure polio. When Karloff's character kills the ape, he decides to disguise himself in its skin so he can harvest human spinal fluid for his research.
2. Ape Man: Karloff wasn't the only horror great in a movie involving monkeys, mad science and spinal fluid. In 1943, it was Bela Lugosi's turn, starring as Dr. James Brewster who's been transformed into a mix of ape and man and needs to extract spinal fluid as a cure. Lugosi would return to the genre again in Bela Lugosi Meets a Brooklyn Gorilla, which pretty much says everything you need to know right there.
3. Bride of the Gorilla: Raymond Burr plays the ape-man this time, rampaging through the South African jungle after he ends up on the receiving end of a witch's curse. And it's none other than Lon Chaney Jr. who plays the suspicious sheriff out to solve the case.
4. Gorilla at Large : Gorilla reunites Burr with the genre, this time as a carnival owner who may or may not be responsible for the murder of an employee. Everyone — including the gorilla — is under suspicion here. With venerable thesps Anne Bancroft, Lee J Cobb and Lee Marvin also in the cast. The biggest mystery really is how many A-list actors can you stuff inside a B-movie?
For a full schedule of the Gorilla at Large on AMC, click here.
To share your review, and your favorite absurd moment from the film, click here.
Read More