Maureen O'Hara Proves Impossible to Tame in Comanche Territory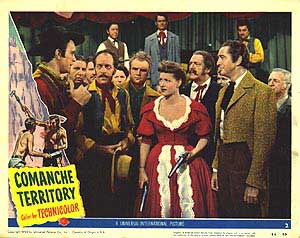 With her red hair, creamy skin, and emerald eyes, Maureen O'Hara telegraphed tempestuousness. Her vibrant beauty had other benefits, making her an obvious choice for Hollywood's new Technicolor films and earning her the moniker, "Queen of Technicolor." Ironically, O'Hara resented that label and the baggage it carried with it. In her 2004 biography, 'Tis Herself, she explains that her looks meant that the studio bosses would pass her over for juicier parts, believing that less attractive women had more talent. "I would have loved the chance to play one of those really nasty bitches that Bette Davis always got to do," she says.
But that's not to say that O'Hara didn't have her share of fiesty roles. When not locking horns with Jimmy Stewart in The Rare Breed, the Irish actress was smashing poor John Wayne over the head with a bottle in McLintock! For her leading men, she was savage territory to be conquered, a wild mare to be tamed. They weren't successful: A quarter century after the Duke dragged her through the moor in The Quiet Man, she still was making life miserable for John Candy as his mother in Only the Lonely.
And as hardheaded bar-owner Katie Howard in Comanche Territory, the actress joins the ranks of such stubborn frontier women as Joan Crawford in Johnny Guitar, and Barbara Stanwyck in Sam Fuller's Forty Guns (not to mention the pantheon of exotically accented saloon-girls). It is also the only film in which Maureen O'Hara wields her most appropriate weapon — the whip.
For a full schedule of Comanche Territory on AMC, click here.
To share your review, click here.

Read More