Masters of SciFi – Spaced Creators Simon Pegg and Jessica Hynes Discuss the Rise of Geek Chic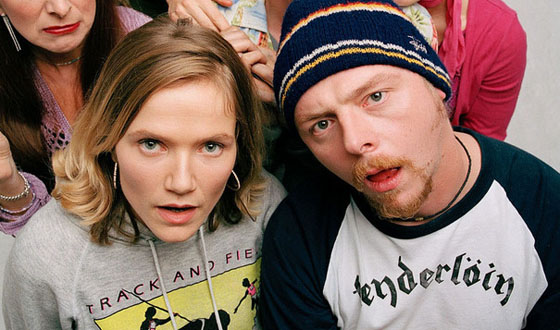 Spaced Creators Simon Pegg and Jessica Hynes Discuss the Rise of Geek Chic" width="560″/>

You probably recognize Simon Pegg from Shaun of the Dead and Hot Fuzz but before he fought zombies and crime, he costarred with Jessica Hynes in BBC's cult TVshow Spaced, a sitcom rooted in geek culture. The two spoke to AMCtv.com just after the release of the DVDs Stateside last week.
Q: Has Spaced benefited from the rise in geek culture?

SP: If there's such a thing as synchronicity, it was part of the whole rise of the geek and the ordinary person. It happened alongside the notion that being a geek is not necessarily a bad thing, and just because you're into something doesn't mean it's a negative label. I'm sure there's a great essay there on the rise of the ordinary person after the fall of the '80s action hero Superman.
JH: If our biological imperative dictates what we do, and if being an alpha male is being in charge of your world, and if your world is virtual, then ultimately people who are in charge of their world are people who are geeks. In entertainment, you're talking about a generation of people who grew up watching telly. So it stands to reason that shows about people like us are going to work.
Q: Simon, your character Tim mentions the sacred rule of Star Trek movies, which is that every odd-numbered film is rubbish. Yet you're playing Scotty in Star Trek XI next year…
SP: Obviously that rule has now been reset. At that point we were only up to Star Trek IX, I think, but trust me: This new one is going to break that rule completely.
Q: Was working on Star Trek a fulfillment of all your fanboy fantasies?
SP: Totally! The first time I ever stepped onto the bridge of the Enterprise, it was like stepping through the looking glass. And also acting alongside Leonard Nimoy — I've known that guy since I was 8 years old, and to suddenly be in the same airspace as him, well, it doesn't get any better than that.
Q: There was a failed attempt to remake Spaced in America, which fans dubbed McSpaced. Why didn't it work?
JH: I think they probably missed it slightly, that's all. Americans have a business attitude to making television. There's nothing wrong with that, but what happens with successful shows is they get picked up and remade. The producers did say they loved the show and understood it, but I don't know how well they did, really. One of the fundamental things they did was they didn't have Tim and Daisy as equal partners in it. It was Tim's show that Daisy was in.
Q: Will we ever see Tim and Daisy again?
SP: I regret enormously that we never got a chance to do a third series. And the frustrating thing is that it was never canceled. They always wanted us to come back, but our lives just changed and the direction we were heading in just changed. There were more stories to be told there. And you know, Jess and I, in the face of the positive response we've had over here, just keep looking at each other saying we have to do something again.
JH: I would love to because whenever we talk about it we always have a lot of ideas that we like. When that would happen I don't know. Maybe after this tour in America we'll get our heads together. It would be a nice thing to do, but I don't think there's any time limit. You write the truth, and the characters grow too.
SP: I'd quite like to maybe do it in a comic book form or something. Tim could draw it!
Read More