Orson Welles Gets Sweaty in The Long, Hot Summer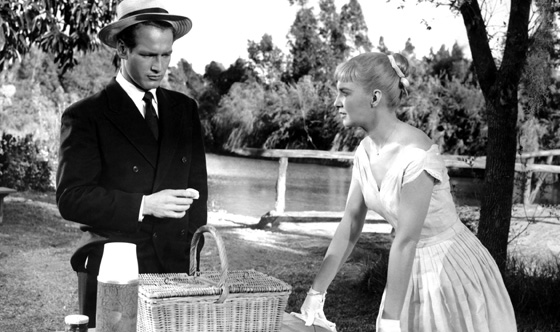 Orson Welles was 20 years younger than the character he was cast to play in The Long, Hot Summer . Perhaps that's why chose to wear heavy make-up and a prosthetic nose to play the part. It's also possible he thought the big nose would make him more menacing (an appropriate attribute for the forceful patriarch, Will Varner), or — let's face it — Welles had a thing for fake noses. Whatever the reason, it made for a difficult shoot.
In an episode of AMC's Backstory, the cast talked about
working with the legend and his prosthetic. He was, Angela Lansbury
felt, "having difficulty living in his skin." Lansbury, like Welles,
often played characters older than her real age but, unlike Welles, she
did it without make-up (most successfully in The Manchurian Candidate ). In The Long Hot Summer
she was the same age as Paul Newman but played, Minnie Littlejohn, a
much older woman in love with Varner. You have to give her credit;
Varner was not an easy character to love and Welles didn't make him any
more attractive. "He was very, very heavy," she noted. "We were working
under dreadful conditions of heat and he was perspiring and he seemed
to have a lot of thick make-up on."
Shooting took place
near Baton Rouge, Louisiana in September of 1957. The weather was as
steamy as the Faulkner-inspired script. "There's nothing worse than
having someone start a scene," recalled
Newman, "and then the make up guy comes over and starts picking and
gluing your nose back on." Newman and Joanne Woodward (who starred as
Varner's daughter) sympathized with the classically trained actor who
had fallen out of fashion. "It must have been a terrible, terrible
feeling for him to have to be confronted by all these young hot
shots… trained at the Actors Studio," said Woodward.
With the help of the
disguise, or in spite of it, he gives a great performance. "There was
something you couldn't resist about Orson," said Lansbury. "Even though
he was a son of a b— at times."
For the full schedule of The Long, Hot Summer on AMC, click here.
To review the movie yourself, click here.
Read More