John Wayne Was Ashamed of His B Western Roots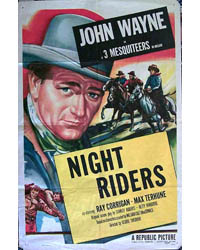 He had played heroic frontiersmen, football players and even a singing cowboy, but John Wayne still wasn't what he had set out to be: A movie star. The year was 1938 and after the box-office failure of Raoul Walsh's The Big Trail , Wayne's first starring role, it seemed as though he'd be consigned forever to being a secondary player on the Hollywood back lots. "I was ashamed for being a B Western cowboy," Wayne said.
An indication of his fading star was his newly signed contract with Republic Pictures, a company specializing in low-rent frontier fodder. And the Duke soon found himself as a member of one of B-moviedom's longest-running franchises: The Three Mesquiteers.
Of course, a starring role in John Ford's Stagecoach just a year later would change everything for Wayne. But wasn't the
Duke being a little too hard on himself? His years as a matinee cowboy had offered a crucial apprenticeship and steady work to the young actor. Between 1930 and 1939, he made over 60 films, making him a familiar presence to the young audience who would soon idolize him. Indeed, his B movies were a large part of his later success.
In any case Wayne's first picture after Stagecoach, The Night Riders, was the beginning of the end of his tenure as a second-tier actor. Riding on the dust clouds of Wayne's success, Republic Pictures put the newly confident actor out in starring roles; The Night Riders serves as a bridge between the iconic Western heroes to come and the cowpokes of his past.
For a full schedule of The Night Riders on AMC, click here.
Read More