John Scalzi – Ridley Scott Deserves an Oscar, Even If It's an Honorary One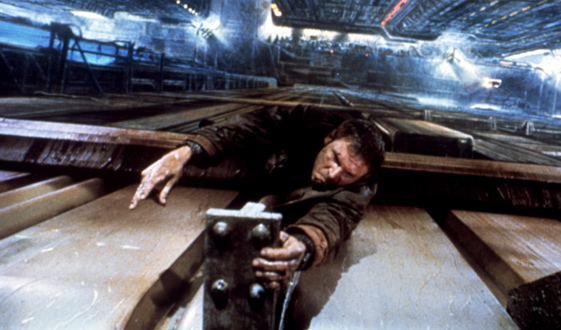 Every year (or close enough), the Academy of Motion Picture Arts and Sciences gives out an honorary Academy Award in addition to its usual slate of Oscars for best picture, actor, director and so on. Historically this honorary award was given to recognize folks in categories for which there was no standard award (Walt Disney got one in 1932, for creating Mickey Mouse, and Shirley Temple got one in 1935, for, well, being Shirley Temple), but as the number of regular prizes expanded, the honorary award morphed into a ersatz lifetime achievement award, given to folks who have otherwise slipped between the Oscar cracks in their long and distinguished careers. Such was the case with directors Robert Altman and Sidney Lumet and actor Peter O' Toole in recent years.
I'm not in the Academy — seems they are sticklers about who they let in, and guys blathering about movies on a Web site don't count — but I do have an excellent idea for who they should be thinking about handing down one of those honorary awards to: Director Ridley Scott.
Scott, of course, will be immensely familiar to science fiction fans, since he directed two indisputable classics of the genre: 1979's Alien , and 1982's Blade Runner . One could argue that these for these two movies alone, Scott merits lifetime achievement consideration, because the two films have had immense influence on the look and feel, not just of science fiction film, but of film in general. But as it happens, Scott's critical contributions to the science fiction genre are just one facet of a film career that genuinely deserves praise and note — and just one piece of the puzzle for his consideration for an honorary Oscar. Let's look at some of the other reasons.
1. Scott is not a one-trick pony.
When people
who know of Ridley Scott think of the "Ridley Scott feel," as it were,
what comes to their heads is: Epic, massive and awe-inspiring — which
makes sense when you are are talking about the director of such
gorgeously visually-designed films as Alien, Blade Runner and Gladiator . When Scott goes overboard, it can be a bit much — see Legend ,
possibly the most ridiculous fantasy film of the '80s, and that's
saying something — but it's never less than gorgeous. This visual
production fantasia thing Scott's got going is definitely his calling
card in the cinematic art.
That said, Scott's first Oscar nomination for Best Director came not with any of his eye-poppers, but for 1991's Thelma & Louise .
The feminist road-trip movie, grittily shot, was so wholly unlike
anything the man directed before that I think people couldn't believe
this was from that Alien dude. Believe it — under Scott's
epic-loving exterior is a director who likes directing stories about
people. He did it again with Matchstick Men , somewhat less successfully with A Good Year , and then managed to fuse both his epic and realist sides for last year's American Gangster .
Scott's actual facility with actors is underrated, and given his occasional lapse into empty commercial noisiness ( Black Rain and G.I. Jane , which play like films by Tony Scott,
not Ridley), it's understandable that people forget that. But at the
end of the day, what makes Scott a better director than
mechanically-obsessed craftsmen like Michael Bay or George Lucas is
that he doesn't need the epic toys to tell a story: He can do it with
just the actors in front of the camera.
2. Scott is unlikely to win an actual Best Director award.
Yes, I know: Weird that a man with at least three genuine cinematic classics to his name (Alien, Blade Runner, Thelma & Louise) should be bereft of an Oscar. Scott even directed a Best Picture — Gladiator — but didn't get the gold statue, and the two other times he's been nominated for Best Director (for Thema and for Black Hawk Down ) his movie wasn't nominated for Best Picture, which essentially means he had no chance. American Gangster
was arguably snubbed last year for picture and director. And
ultimately, while I think there's a widespread admiration for Scott's
craft and commercial sense, I also think he's taken a bit for granted
— a director with a good eye but no heart, perhaps (and unfairly) —
and someone like that is not someone that competes well down the
stretch for an Oscar.
Not winning an a Best Director award doesn't mean one isn't, in
fact, an excellent director — ask Alfred Hitchcock about this, or
honorary recipients Altman or Lumet. It's simply a fact that every year
the Oscar race has a different dynamic, and some great directors keep
getting the short end of the stick. The honorary award exists at this
point to say "hey, now, wait a minute," and give someone who deserves
recognition that moment. With three Best Director nominations and a
billion dollars in domestic box office gross over 30 years, Scott has a
good argument for such recognition.
3. He's almost old enough for it now.
Ridley
Scott is 71 years old, and the honorary Oscars tend to get doled out
when the recipient is in his mid-70s (with some exceptions: Robert
Redford was a spry 64 or so when he got his). He's in his fourth decade
of feature film directing, his fifth decade of filmmaking in general,
and aside from his work as a film director, has had a healthy side
career in film production and other visual endeavors (including what is
generally regarded as the most influential spot in the history of television advertising).
Basically, he's done his time, he's made his mark — and given the
number of films he has in pre-production, will still be making it for
some time — and, alas, he's not getting any younger.
Add it all up: The man deserves an Oscar. An honorary Oscar will do just fine, thanks.
Your thoughts?

Winner of the John W. Campbell Award for Best New Writer, John Scalzi is the author of The Rough Guide to Sci-Fi Movies as well as the novels Old Man's War and the upcoming Zoe's Tale. His column appears every Thursday.
Read More