Hellboy II: The Golden Army Review – Beyond the Monster Pageant, Things Aren't Quite So Pretty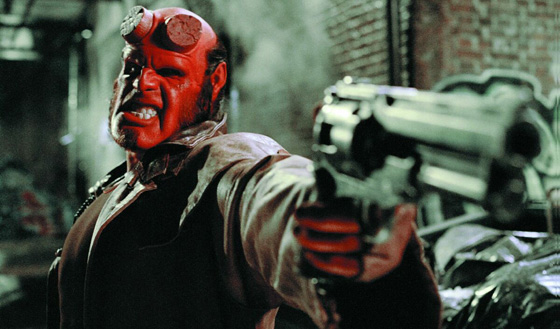 Hellboy II: The Golden Army Review – Beyond the Monster Pageant, Things Aren't Quite So Pretty" width="560″/>

I saw Hellboy II: The Golden Army with a friend who was a big fan of the first film and of all things Hellboy in general. When the movie ended, I looked over, expecting to see him bouncing in his seat. Instead, he was shaking his head sadly. "I don't know who they think is going to see this movie," he moaned. A few days later I bore witness to a similar scene, a bunch of fans holding a boozy post mortem, critiquing the marketing challenges awaiting this film.
What is it about Hellboy II that's turning people from rabid fans into depressed publicists? There is something sealed off and inert about the film: It is what it is and that's all there is to it. The movie starts with a prologue in which young master Hellboy is regaled with a bedtime story about elves who want to wipe out humanity with their golden, clockwork army… then the film proper begins and suddenly we're in a remake of Men in Black, only with Hellboy (Ron Perlman) playing both the Tommy Lee Jones and the Will Smith roles. At the Bureau for Paranormal Research and Defense, Hellboy is brawling with his pyrokinetic girlfriend, Liz (Selma Blair), while fishman, Abe Sapien (Doug Jones), and their boringly human boss, Manning (Jeffrey Tambor), stroll down the corridors as monster weirdness unfolds in the background. Hellboy and Co. soon discover that the elf in the bedtime story, Prince Nuada (Luke Goss), is out to reassemble his crown and use it as the key to restart the Golden Army and wipe out humanity.
Unfortunately, not a single one of these plot points is delivered clearly or coherently in the movie: You're never quite sure what exactly it is that Hellboy and Liz are fighting about; Prince Nuada's quest to destroy humanity is one that most monster-loving fanboys can get behind, but here, he comes off as just one more evil genius out to destroy the world; Abe Sapien falls in love with Prince Nuada's sister, who has a creepy-close relationship with her pale brother that makes one think that maybe they're the Angelina Jolie and James Haven of Elf Land, but otherwise Abe just dithers about, waving his beautifully expressive fingers.
But what about the monsters?
They're great: Hordes of clicking tooth fairies, a plant elemental,
a troll market, a giant mountain shaped like a man with a door in his
stomach and an angel of death (Doug Jones, again) who looks like she's
wandered in from the set of Pan's Labyrinth II. And there's
also Johann Krauss, an intelligent cloud of gaseous ectoplasm that
lives inside a deep sea diver's suit and barks orders. He's brought in
to replace Hellboy, all Teutonic efficiency to Hellboy's Irish party
hearty spirit, and their scenes crackle and spark because the two
actors sell their conflict. One is all wrapped up in brass and glass
while the other can barely be bothered to put on a shirt. It's a
perfect match of monsters and material, and it makes you want to see
the two of them star in a del Toro directed remake of The Odd Couple .
Beyond the monster pageant, however, things aren't quite so pretty.
I know it's the summer and all, but movies need a story. And what's
most frustrating about Hellboy II is that while del Toro
latches on to a surprisingly resonant story, he doesn't do anything
with it — which might account for the general lack of enthusiasm. In Hellboy II,
del Toro sets things up so that it's the monsters, civilized and living
in swank Art Deco bunkers on the government's dime, who are being
forced to hunt and kill other, wilder monsters to save humanity. This
rich complexity oozes with potential — a collision of our darkest
fears, self-doubt and self-loathing, smashing into our love of cool
monsters kicking butt. But at the last minute, del Toro jerks the wheel
and the happy car crash never occurs.
A few years ago, Takashi Miike, Japan's wildman director, made a kid's film with this same theme, called The Great Yokai War.
Lumpy and uneven, it was Miike's first big box office hit in years,
because audiences were able to look past the gimcrack monsters and
sometimes-shoddy latex make-up and see the bright red story pulsing
underneath. In del Toro's story, there's nothing behind the monsters, a whisper instead of a shout where the story should be. But the monsters are really beautiful.
Grady Hendrix is one of the founders and programmers of the New York Asian Film Festival. He writes about Asian film for Variety at Kaiju Shakedown and should have found something better to do with his life by now.
Read More