Historical Accuracy Is No Match for Chuck Norris in The Delta Force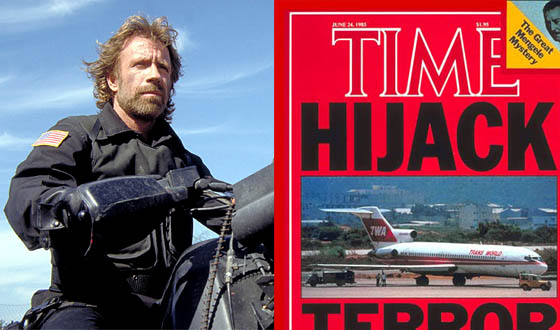 Midway through 1979's Iran hostage crisis, President Carter approved Operation Eagle Claw to send the elite Delta Force in to stage a rescue. Only six of the squad's eight helicopters even made it to the staging ground, and when the mission was scrubbed, one of the remaining helicopters crashed into a refueling plane, killing eight. Five years later, TWA Flight 847 was hijacked by Hezbollah, a two-week ordeal that began in Athens and traversed Beirut to Algiers and back again before the hostages were released. What do these two events have in common? Well, nothing. Unless you're Chuck Norris, that is.
The martial arts master has been granted many fantastical "facts" of late — tears that cure cancer and a supersonic roundhouse kick, to name just two — but the 1986 film The Delta Force,
which unapologetically recounts these events with explosive zeal, adds to his repertoire the ability to rewrite history — or at
least insert himself in it.
Even When Chuck Loses, He Wins
The Delta Force's opening scene loosely depicts Operation Eagle Claw. In fact, when the film was in the early stages of production, the original commanding officer for the mission, Col. Charles Beckwith, was involved. But when it was decided that in the film the mission would succeed, Beckwith quit in protest. In the final version, the rescue attempt is in fact a failure, though because of enemy attack, not helicopter collision. Does that stop Chuck? Hell no: He still manages to single-handedly lift an armored jeep and free a trapped comrade before escaping.
Chuck's Only Diplomatic Gesture Is a Mercifully Quick Death
The real hijacking of TWA Flight 847 was followed by two weeks of tense diplomacy, where hostages were slowly exchanged for fuel and food. When the ordeal had passed, Israel released over 700 prisoners from detention, claiming their release had nothing to do with the hijacking. (Several of the hijackers remain at large to this day.) In the film, Chuck offers only bone-crushing punches or, at best, a bullet wound to the head. If he's really pissed off, he uses you as a punching bag for a few minutes before firing a few rockets your way from a never-ending arsenal in his motorcycle. Then he jumps onto a plane mid-takeoff before leading a gaggle of rescued hostages in a Budweiser-fueled rendition of "America the Beautiful."
For a full schedule of The Delta Force, click here.
To share your review of the movie, click here.
Read More