Daily Scan: 07.30.08 – Gender-Bending SciFi, Raimi at Work on Spider-Man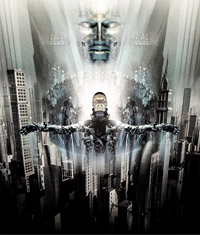 • So word from the Comic Con this weekend is that Marvel's Ultimate line will now be written entirely by the team behind NBC"s Heroes. Great idea, Marvel… Heroes season 2 certainly has never disappointed anyone.
• io9 posts an insane write-up of the BSG panel. It's so maddening to realize that for all the actors and crew, BSG is already a thing of the past. Meanwhile, filmed episodes just sit in a vault somewhere.
• G.I. Joe versus John Carpenter's The Thing.
• Everyone's favorite omnisexual immortal (or at least Doctor Who's) is being rumored as the new Captain America. Never going to happen.
• GLBT Fantasy Fiction Resources posts a list of gender-bending scifi.
• Sam Raimi says work on Spider-Man 4 is already underway.
• Ten years after it was mangled by nervous studios, Alex Proyas scifi noir Dark City looks to be completely restored. Could this be our generation's Blade Runner?
Read More