Daily Scan: 07.15.08 – SciFi Stories That Inspire Scientific Innovation, Keanu Reeves as Plastic Man?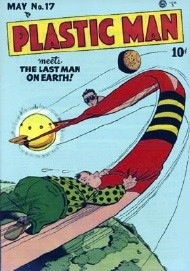 • On the day of the first episode's release, Joss Whedon talks to Wired about Dr. Horrible's Sing-Along Blog. I watched it this morning and liked it, but was hardly enraptured by its genius or anything. It is just solid and charming.
• In response to Buzz Aldrin's comments that scifi was killing space exploration, io9 looks at scifi that have actually helped science move forward.
• Really excellent observation by Cinematical's Scott Weinberg: "The thing about superheroes is that, on the outside, what with the costumes and the nifty gizmos and all the punching, they're kids stuff, which is great. But once you scratch the surface just a little bit, you're dealing with acres of subtext that kids can barely comprehend."
• Keanu Reeves in the Wachowski Brothers' Plastic Man?
• Iron Man's adventures as a Richie Rich style teenager. Not canon.
• Neil Gaiman will celebrate the Sandman's 20th anniversary with a new comic adaptation… of a previously released Sandman graphic novel. Huh?
• The Final Cylon will be revealed early in Battlestar Galactica 4.5, apparently.
Read More