Comic Book Movies Will Go Meta and Other Predictions From This Year's Comic Con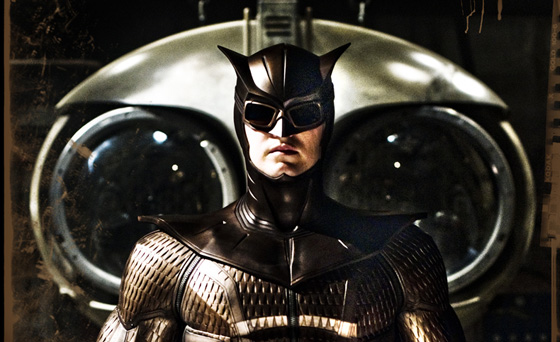 Nick Nadel's Tuesday column examines the increasingly busy intersection between comic books and the movies.
Once merely a place to pick up some Rom the Spaceknight back issues on the cheap, Comic Con International (or "San Diego" as its known in geek circles) has morphed into Tinseltown's most influential launching pad — Sundance and Toronto wish they had its cred. Visibility at the Con can make or break a film (J.J. Abrams, where's that Star Trek footage?), and based on the amount of superhero movie news and gossip announced at this past weekend's fest, it's safe to say Hollywood's love affair with comics will continue to flourish in '09. Therefore, some predictions for the year ahead based on the offerings at this year's Con.
X-Men Origins: Wolverine Will Only Marginally Be About Wolverine
Hugh
Jackman's surprise appearance at the Con was treated like The Beatles
at Shea Stadium, so it's safe to assume that fans will turn out in
droves for the cumbersomely titled X-Men Origins: Wolverine. Oddly,
Wolverine's solo outing will involve a bevy of other X-Men characters,
ranging from the beloved (Gambit) to the "who?" (Beak.) (And to think
studio execs were concerned about whether audiences would care about
Tony Stark.) Apparently Wolvie's getting crowded out of his own origin
movie by C-listers. Still, if the film's a success, look for future brand extensions X-Men Origins: Magneto, X-Men Origins: Iceman, and X-Men Origins: That Guy With the Porcupine Face From X-Men: The Last Stand to flood the multiplex.
Comic Book Movies Will Go Meta
With
audiences now fully aware of the ins-and-outs of comic book films, it
makes sense that filmmakers would start to use superheroes to comment
on superheroes. And given that Warner Bros. is turning the greatest deconstruction of the genre ever created into a would-be blockbuster, are we about the enter the era of the meta comic book movie? If Watchmen
does connect audiences, it could open the floodgates for more comic
book films about comic books. Which is great news for the four of us
waiting for that "Superduperman" movie.
The Spirit Will Be Less Will Eisner, More Frank Miller "TMI" Fest
If early footage is any indication, The Spirit
(aka "Frank Miller Presents Frank Miller Adapting Will Eisner's The
Spirit"), will have less to do with Eisner's comics than with Miller's
testosterone-laden fantasies: His signature ham-fisted "tough guy"
dialogue, buxom beauties, and garish design sense are all in full
display. That a beloved Golden Age comic book has morphed into "Sin City meets The Red Shoe Diaries"
is perhaps proof that Miller is being given entirely too much free
reign in Hollywood these days, even if he is the man behind Robocop 2 .
Gossip Reporters Will Discover Who Red Sonja Is
Apparently Robert Rodriguez and Rose McGowan's split is no match for Red Sonja, as new teaser posters for the film hope to erase any lingering memories of the 1985 Brigitte Nielsen/Arnold Schwarzenegger campfest . Expect reports from the set to fill the pages of Us and Star, and Red Sonja
co-creator Roy Thomas' name to appear in gossip magazines for the first
time. Still, if it gets Rodriguez's Conan movie (starring Danny Trejo!)
made, it'll all be worth it.
Punisher: War Zone, not Dark Knight, Will Sweep the Academy Awards
Everything
about this third (yes, the Dolph Lundgren version counts) Punisher
outing from it's new Frank Castle (Ray Stevenson, replacing Thomas Jane
who clearly had anything better to do) to the news of its director walking off the project — screams "Oscar Gold." Kidding, it's gonna tank. Can't anyone make a decent Punisher film? It's a guy shooting criminals — not exactly Watchmen. If nothing else, Comic Con showed that while we may be in the Golden Age of comic book movies, Hollywood is still Hollywood. (And for every Dark Knight, there is a Punisher: War Zone.)
When not writing, Nick
Nadel is in line at the comic book store alongside the other geeks, er,
fans of speculative fiction. His most prized possession is a 1960s
Batman comic wherein
the Dynamic Duo are trapped inside a fortune cookie factory. He lives
in Brooklyn and updates his aptly named website (nicknadel.com) with comedy writing and videos.
Read More