Classic Ten – Greatest 3D Movies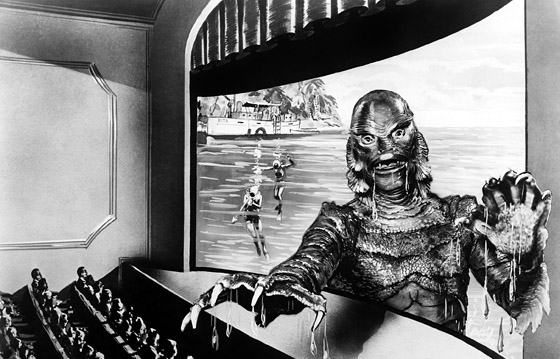 In the 1950s, families were abandoning city theater seats for suburban lawn chairs, a Supreme Court decision toppled the studio system, and a little medium called television was becoming the biggest thing since, well, the movies. So Hollywood tried to entice audiences with marvels that only movies could offer, including 3D. Stereoscopic 3D had been around since the late 1800s, but it was with 1952's Bwana Devil that moving pictures in three dimensions became a sweeping fad. It didn't hang around long — the format was too cumbersome and inconvenient — but 3D has been revived and revised several times since. Here's the best of the bunch.
10. Bwana Devil (1952)
A brainchild birthed by Milton Gunzburg, whose Natural Vision 3D invention was passed over by a handful of studios toying with other gimmicks, and Arch Oboler, who wrote, directed, and produced the Africa adventure film, Bwana Devil was a clumsy first attempt at 3D in the 1950s. Not usually remembered for its own merits but absolutely instrumental in putting the process on the map, it was enough of a success for films like House of Wax to employ Natural Vision and advance the art of 3D even further.
9. Spooks! (1953)
A number of big stars embraced the 3D fad of the early '50s: John Wayne, Rita Hayworth… and the Three Stooges. Unleashing their violent brand of slapstick in three glorious dimensions, the Stooges made two of their almost 200 shorts in 3D, including Spooks!, a Jekyll-Hyde send-up that employed stereoscopic vision to enhance their trademark eye poking and pie throwing.
8. The Mask (1961)
3D had been more or less pronounced dead by the '60s, but a few low-budget horror films kept it alive, including a Canadian cheapo flick called The Mask (also known as Eyes of Hell) that featured several surreal 3D sequences. When urged to "Put the mask on — NOW!" viewers would slip on their glasses (in the shape of the title artifact) and share Paul Stevens' scientist character's hallucinatory experiences brought on by wearing an ancient mask containing mysterious properties.
7. The French Line (1954)
Only larger than life aviator -mogul-film dabbler Howard Hughes would produce a 3D movie starring amply endowed Jane Russell and advertise the results with the innuendo/tagline: "It'll knock both of your eyes out!" Like Hughes' Production Code-baiting The Outlaw, The French Line was made more to challenge the MPAA's censorship rules with titillating dialogue and Russell-revealing costumes than to provide a classy night out at your local theater — and the sexual provocation was nicely helped by 3D.
6. Dial M for Murder (1954)
3D is often associated with contrived spectacle: How will the filmmakers find inventive excuses to have objects leap off the screen? But Alfred Hitchcock had other ideas in directing the stagey Agatha Christie-like mystery Dial M for Murder for both regular and 3D formats. Instead of gimmickry, Murder uses 3D for purposes of subtle maneuvers through space, with only one or two shocks (those scissors!) meant to startle audiences. Seen mostly in its flat version at the time of its release, revivals of the 3D version have proved much more popular in years since.
5. Friday the 13th Part III (1982)
The Friday the 13th Part III
represents the finest of its many, many sequels in no small part due to
the 3D effects that make it a gruesome little novelty. One of the
seemingly ubiquitous horror movie installments to use 3D during the
format's brief revival in the '80s (Jaws 3-D, Amityville 3-D), Friday the 13th Part III
shows greater invention over its rivals: An arrow shot through one of
Jason's victim's as well as an inevitable scene in which someone's eyes
pop out of his head. A literalization of its audience's reaction, or
just plain disgusting? You decide.
4. Beowulf (2007)
The
future of 3D? Today the format seems to be making yet another comeback,
this time with the help of films entirely created out of computer
generated animation. Robert Zemeckis' The Polar Express toyed with an entirely digital universe (from performance captured actors) in 3D in 2004 but was far from successful; in Beowulf,
the technology seems to have almost completely caught up with the
filmmaker's imagination, and the result is a lifelike, kinetic exercise
in the possibilities of epic adventure on all planes of action.

3.
Andy Warhol's Frankenstein (1973)
The
avant-garde has had a fascinating tradition of expanding normal
movie-watching formats, and legendary modern artist/filmmaker Andy
Warhol was no stranger to the practice, often using multiple projectors
and live performances to take the experience to new, unconventional
places. Warhol's protege Paul Morrissey actually wrote and directed the
film — but Warhol's stamp of macabre humor and ironic detachment is
all over this irreverent take on the horror classic, and its
unflinching gore is done justice by its Space-Vision 3D.
2. Creature From the Black Lagoon (1954)
Of
all the id-like monsters that terrorized movie screens during the '50s
stereoscopic craze, none is more famous than the titular Gill-man from Creature from the Black Lagoon. Creature perfected the B-movie King Kong
formula of a misunderstood human-like beast pursued by man and
enraptured by woman, and was boosted in its horrors by 3D, which
allowed the creature to invade the viewer's comfort zone. A sequel, Revenge of the Creature, was also in 3D.
1. House of Wax (1953)
House of Wax
is the greatest 3D film of all time not only because it combined
stereoscopic effects without sacrificing story (Vincent Price as a wax
sculptor whose art is also his means to crime), it's the greatest 3D
film helmed by a director unable to see out of one of his eyes.
Director André de Toth was hired by Warner Bros. to translate the
studio's first 3D production onto the screen despite having lost sight
in one eye. Somehow de Toth knew what he was doing and crafted a film
that cannily used 3D (including a paddleball sequence where a ball
rapidly bounces toward and away from the audience), even if he couldn't
see the results himself.
What is your favorite 3D movie?

If you don't see your favorite included here, put it in the comments section below.
Read More