For Robin Williams, Drag's a Drag in The Birdcage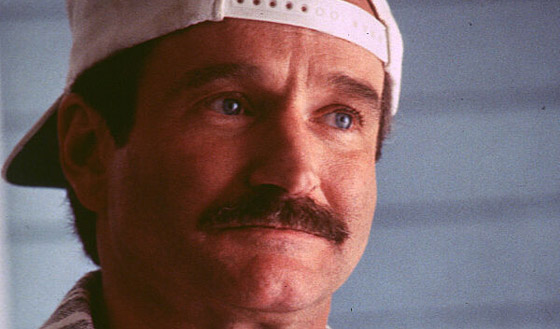 Director Mike Nichols loved the cast he chose for The Birdcage. "I can't imagine anyone else in any of these parts," said Nichols. "It's the only time in my life that I haven't thought, 'Well, this one character, I should have gotten so-and-so.' It was exactly the actors who should have been these characters. Every single one, right down to the non-speaking parts."
Robin Williams was the first cast member to sign on, but he didn't see a completed script until late February 1995, shortly before filming began. He admitted, "At first, when I heard they wanted to remake La Cage aux Folles, I said, 'Are you out of your mind?' But then when I read it – and they just sent a few pages – I was laughing so hard on the plane that the stewardess must have thought I was crazy."
In the beginning, Nichols asked Williams to play "Albert," the drag
queen role, but Williams balked. "I did that already," he argued. "I've
already been a big, bad woman and besides, with this one, I can't use
prosthetics in the makeup. Without prosthetics, let's face it, I'm not
very attractive." Williams had evidence of this, because just after
filming Mrs. Doubtfire, he makeup-tested for To Wong Foo, Thanks for Everything, Julie Newmar.
He had been tapped for the role of 'Vida Boheme,' the character
eventually played by Patrick Swayze. After viewing the makeup test,
Williams had to concede that he just wasn't pretty enough to pull off
winning a 'Drag Queen of the Year' contest.
"I thought, 'I want to try something different, something more
elegant,'" said Williams. "People expect me to be the more flamboyant
one. I wanted something new… It's a dry, restrained comedy, versus
being so outrageous, and that's what was interesting for me. It's like
learning a whole set of different muscles."
Once he understood the direction Robin Williams had in mind, Mike
Nichols agreed. "I wanted Robin to be the relatively still center,"
said Nichols. "I knew there would be great humor in Robin suppressing
his desire to shriek."
Watch the DVD-enhanced version of The Birdcage. For a complete schedule of this movie on AMC, click here.
To read about how The Birdcage Brought Mike Nichols and Elaine May Back Together, click here.
To read about Family Values vs. Valuing Family in The Birdcage, click here.
Sources:
Elaine May, The Birdcage: The Shooting Script, Newmarket Press, 1997
Claudia Eller, "Sure He Can Wear a Dress, But Can He Look Cute in It?," Los Angeles Times, 7/17/94
Jonathan Alter, "Robin Williams Uncaged," USA Weekend, 3/1/96
Mal Vincent, "Director and Stars Talk about Making Hit Comedy The Birdcage," Virginian-Pilot, 3/14/96
Bernard Weintraub, "Birdcage Shows Growth in Older Audience's Power," New York Times, 3/12/96
Brendan Lemon, "Nichols & … Timing," Interview, 4/98
Read More