Would You Order Room Service at Motel Hell?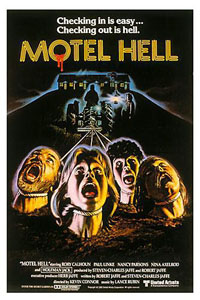 Maybe Motel Hell's Farmer Vincent Smith (Rory Calhoun) was onto something when he started turning his customers into beef jerky. No doubt Sweeney Todd would approve; as would the butcher in Delicatessen . But what about people who aren't fictional characters in horror movies? Who would call up for room service?
For one, Danish artist Marco Evaristti. On January 13, 2007, Evaristti — whose previous work included 10 blenders with live goldfish inside of them and an open invitation to turn them on — had his friends over for a dinner party. The main course was angolotti pasta, with meatballs made from Evaristti's own body fat. The artist prepared the pasta with fat that had been liposuctioned from his torso earlier that year. Undoubtedly, this is a supper where a gourmand like Hannibal Lecter would have asked for seconds.
Or maybe Mark Nuckols. In 2005, he marketed Hufu the "healthy human flesh
alternative" for "cannibals who want to quit." Hufu was a tofu product
that supposedly tasted like human flesh. Nuckols,
recently closed the website that was selling Hufu because operating it
was too expensive. Hufu caused quite a stir on the Internet but it
turned out the product was only a spoof and its 15 minutes ended
quickly — thank goodness.
For a complete schedule of Motel Hell on AMC, click here.
To review this movie, click here.
Read More