Sandra Bullock Insisted on Shooting Two Weeks Notice in New York After 9/11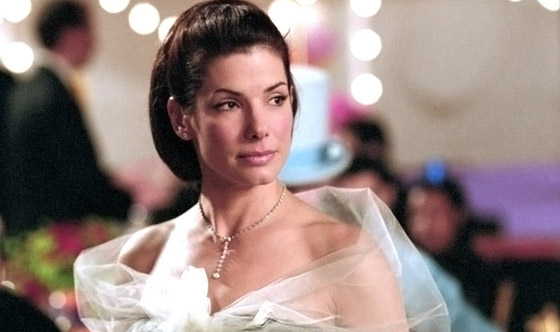 Sandra Bullock has long been one of America's cinematic sweethearts, but back in the early months of 2002, she was one of the Big Apple's champions. On September 11, 2001, the romantic comedy veteran witnessed the terrorist attacks firsthand from the window of her downtown hotel room. A few months later, she began preparing for her next film: The romantic comedy (natch) Two Weeks Notice . A modern-day fairy tale about the relationship between a bleeding-heart lawyer and her caddish real estate mogul boss, the film was a valentine to unlikely love as well as the city of New York. But due to budget constraints — not to mention the compromised downtown skyline — execs planned to shoot the movie in Toronto.
But Bullock, who was a producer as well as the star, put her foot
down. In her view, there was no way to make the movie anywhere but the
Big Apple. At her insistence, Two Weeks Notice became the first major motion picture to shoot in the city post-9/11 and as such, helped revitalize its struggling economy.
The city was so grateful, Mayor Michael R. Bloomberg proclaimed December 11, 2002 "Two Weeks Notice Day" in their honor. His press release
documents some stunning numbers: The film shot on location in New York
for 17 weeks in 2002, spending over $24 million and employing 800 New
Yorkers. Among its biggest expenses: $14.2 million on local hires,
$836,885 on local extras, $3,201,196 on rentals and purchases,
$1,059,374 on gasoline, $329,333 on hotels, $117,796 on car rentals,
$354,560 on food, $508,043 on hardware and lumber, and $437,771 on
wardrobe and dry cleaning. The movie also featured many of the city's
iconic landmarks including the Brooklyn Bridge, Coney Island, the
Waldorf-Astoria Hotel, Battery Park City, Central Park, the South
Street Seaport and Shea Stadium.
But most significantly, the
film presented the new New York to the nation: A city that had weathered a nightmare, but
could still fulfill people's dreams.
For a full schedule of Two Weeks Notice on AMC, click here.
To review the movie, click here .
Read More