The Behind the Scene Connections in Escape From New York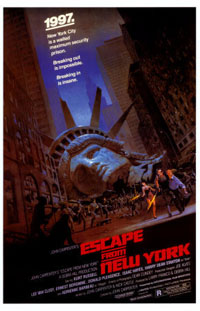 Sure, you remember Kurt Russell in an eye patch. Sure, you know that Escape From New York was one of John Carpenter's more successful films. But Escape From New York also has a few surprising behind the scenes connections that you almost definitely didn't know about, which makes the movie the nexus of scifi filmdom. Let's take a look at some of them:
James Cameron: Yup, the "King of the World" himself worked on Escape From New York, helping to create some of the computer effects that look outdated today, but were considered groundbreaking at the time. He was both the matte artist, and the special effects director of photography. And here's a fun fact while you're watching the movie: The zoom in wire-frame shot of New York City seen in the "glider" was too expensive to create using an actual computer, so Cameron created a matte version of NYC out of painted black model buildings, and white tape. A camera then "flew" through the set, to create the computerized effect. It's surprising to think of Cameron as anything other than the cinematic genius in charge of Aliens , Terminator , and The Abyss (oh, and some movie about a boat), but L'il Jimmy got his start taking his orders from John Carpenter himself.
Jamie Lee Curtis: The actress had starred in Carpenter's hit Halloween , which, in fact, convinced the studio to let the director make the post-apocalyptic Escape From New York
in the first place. So it makes sense Carpenter would turn to Curtis,
who took an uncredited role as the narrator and voice of the computer
in the movie. Though there was a long gap for Curtis before her next
scifi projects — a (deleted) guest turn in The Adventures of Buckaroo Banzai and 1992's cryogenic love story, Forever Young . (There's also Freaky Friday , should you consider that scifi.)
Joe Unger: Unger is one of those character actors whose face you recognize, if not his name. He's been in every movie from Total Recall , to Pumpkinhead II, but one movie you won't see him in is… Escape From New York.
He was originally cast, and shot scenes as Snake's bank-robbing buddy,
but his plotline was cut in favor of a leaner, meaner beginning for the
film. However, Unger's name remains in the credits.
Tommy Lee Jones & Chuck Norris: No, this isn't our pitch for a third Fugitive
movie (though that would be cool). Both actors were suggested by the
studio as better choices for the role of Snake Plissken than Kurt
Russell. While Carpenter ixnayed Norris for being too old, the studio
feared Russell was too well known from his prior work. Tommy Lee Jones
was a relative unknown, and therefore wouldn't bring the same baggage
to the role. But Carpenter pushed for Russell, and eventually got his
first choice. Too bad for Jones, though; it would be another decade
before the Men in Black star had his next shot at movie stardom.
Check out these, and plenty more hidden connections, when Escape From New York plays on AMC this week. For a full schedule of Escape From New York on AMC, click here.
To share your review of the movie, click here.
Read More