Stan Winston Didn't Just Create Monsters, He Created Icons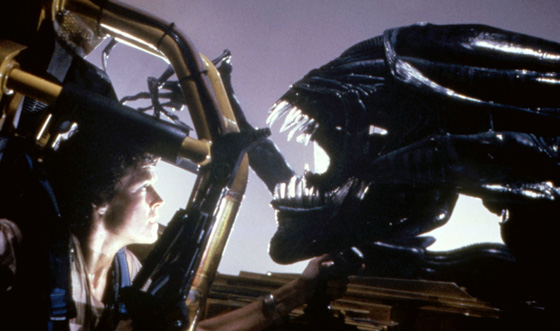 Novelist Scott Sigler's horror column appears every Thursday.
"Looks aren't everything." What's true in love doesn't really hold true in horror movies — especially in monster flicks. You can have a great story, but if you back it up with a monster that is so fake your ten-year-old nephew says it looks "kinda retarded," the scare is gone. And now that Hollywood effects legend Stan Winston has passed on, the world is a poorer place without him. One of the great "lookers" in the history of movies, we're talking royalty when we speak of Stan. Royalty. You doubt the term? Too grandiose? Take a gander at the killer movie monsters developed by Winston:
• The Alien
• The Terminator
• The Predator
• All that long-toothed goodness in Jurassic Park
It's one thing to develop a monster. It's another thing to make the monster a focal point in a successful movie, or even a franchise. And then it's a separate level entirely to make creations that don't just do the things mentioned above, but elevate beyond celluloid and become embedded in our culture. Winston didn't just create monsters, he created icons. These creatures have
surpassed simple moviedom and ascended into the embedded consciousness
of our culture, joining immortal staples like Dracula, the Mummy,
Frankenstein and the Wolfman.
The Predator combined that fantastic camouflaged effect with an
amazing monster face. The monster was bad ass enough when it was
wearing the helmet, but when that dreadlocked doomslinger dismissed the
whole Phantom of the Opera
shtick and said "I'm ready for my closeup," who didn't feel a thrill at
the realism of that bizzaro crab face? It just looked so real: Skin
splotches; wet mouth; angry, intelligent eyes — details that made it
feel like we were there.
The Terminator's metal skull has become a major symbol in scifi. Now granted, if you go back and watch the final 15 minutes of The Terminator ,
that whole Ray Harryhausen stop-action feel doesn't cut it in the
modern FX world. But that creature remains one of Winston's hallmarks
— if you hit pause and just look at the monster as-is, it looks cool.
The design of the Terminator, the combination of the chromed-out
technology with the humanity and biological feel of the human skull —
that's what let us identify with it. And that's why when they advertise
anything related to the Terminator franchise, all they have to do is show that skull and you know exactly what you're going to get.
Predator and Terminator are sensational, of course, but if Winston
was known for one thing and one thing only, it would be the Queen
Alien. H.R. Geiger designed the original creature used in the Ridley
Scott classic, and it was an established horror symbol. Winston,
however, brought the visual to a new level for James Cameron-directed
sequel. Put movie direction aside and think of just the visuals — the
sequel's monsters absolutely jumped off the screen, dwarfing the impact
of the original. The final battle between the queen and the loader? To
this day, it still leaves me breathless. Why? Because the only way to
make it look more real would be to breed the queen in a lab, get her an
agent and put her on the set.
Stan Winston spent a career bringing nasty goodness to the screen. For Pumpkinhead ,
he not only created another 10-foot-tall drooling killing machine, he
directed as well (I consider this flick the most underrated horror
movie of all time, by the way). Winston was a monster factory, kicking
out all of the above as well as creatures for Instinct , Congo , Leviathan , The Island of Doctor Moreau , and Constantine ,
to name a few. He seemingly couldn't stop kicking out nasty visions,
even putting really cool monsters in really awful flicks ( The She Creature , anyone?).
In his spare time, he did some other stuff too, special effects for little indie films like Edward Scissorhands , Batman Returns and Iron Man.
Did I mention his four Oscars? Design, FX, directing, awards — he's
the monster movie equivalent of Ice Cube: Messing around and getting a
triple double. Stan Winston made the stuff of nightmares. The remote
control industry should build a shrine in his honor for all the rewind
buttons that fell to pieces because of his films. If there is a heaven
for people who dominate our DVD shelves, I know Stan is there.
Stan Winston, you will be missed.

Scott Sigler writes tales of hard-science horror, then gives them away as free audiobooks at www.scottsigler.com. His hardcover debut Infected is available in stores now. If
you don't agree with what Scott says in this blog, please email him
scott@scottsigler.com. Please include all relevant personal
information, such as your address and what times you are not home, in
case Scott wishes to send someone to "discuss" your opinions.
Read More