Site of the Week – SpaceWesterns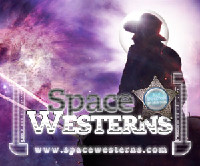 Space westerns get no respect, and Nathan E. Lilly is out to right that wrong. What's a space western? "Frontier themes in outer space" is Lilly's simplest definition. His parameters: If a story can be re-written as a western, if it's about bringing law and order or if it contains major characters that could be defined as "space cowboys" — people who live by their own rules, not because they want to, but because they have to. Think Star Trek, Buck Rogers, Flash Gordon and Firefly (or Serenity), to name a few.
Lilly's goal at SpaceWesterns, which he launched in April 2007, is to "rewrite the history of science fiction" and to "make it more acceptable for people to create space westerns without derision." Having cut his teeth on Star Trek, Star Wars, the animated Flash Gordon, Buck Rogers and Battlestar Galactica, he was introduced to the concept of the space western and its lack of respectability in 2000, when he joined the Philadelphia Science Fiction Society and "got acquainted with science fiction fandom."
"Space westerns are the red-headed stepchild of science fiction,"
Lilly notes. "Among certain groups of science fiction professionals and
fans, calling something a space western is an outright insult." He
blames a "smear campaign initiated by H.L. Gold in Galaxy Magazine" back in the 1950s for this attitude. Lilly became a convert to the genre after watching Joss Whedon's Firefly
television series. "I realized that there was all this fiction out
there that I already enjoyed that were simply space westerns — and
that there was even more out there that I could have been enjoying,"
Lilly says. "It's opened my eyes to the fact that there are these
treasures out there that are locked away in old pulp magazines and
radio shows and television serials that I'm just now beginning to
discover." On the site, he includes what he calls "The (Nearly)
Complete Space Western List" which includes films such as 1935's The Phantom Empire, a musical starring Gene Autry; Planet Outlaws, a feature film version of the Buck Rogers film serial; Battle Beyond the Stars (Roger Corman, executive producer); and 2005's Planetfall.
The site, which enjoyed more than 17,000 page views in May, also has
short fiction, including an eight-part serial by A.R. Yngve titled "A
Man Called Mister Brown," and popular feature articles on topics such
as the pioneering women of space westerns and an analysis of the Battlestar Galactica
"Last Supper" image. Lilly plans to introduce video features, such as
interviews and set tours, in the next few months. Even with
contributions from over 50 people in one form or another, he's hoping
for more people to write reviews and conduct interviews.
When asked if space westerns have experienced a resurgence, Lilly
explains there's been no resurgence per se because they've been around
for a long time, only labeled differently. "They take their
place in the lineage of American literature from the early Leatherstocking Tales
through to the dime novels and novels of the American West, up to the
space race and these stories about conquering the final frontier," he
declares. "They're essentially the same stories in different dress."
Read More