Site of the Week – Fantastic Movie Musings and Ramblings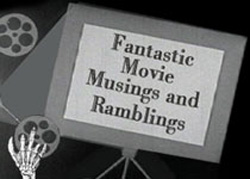 2,485. Any idea how long it would take to watch that many movies? Well, David Sindelar has managed to do it in nearly seven years and, yes, that means he's watched one film every single day (including weekends) during that entire time. And he's still at it, because his goal is to watch one science fiction/fantasy/horror movie everyday… until he's watched them all. The ongoing results of his formidable project, including write-ups of all the movies, appear on his Fantastic Movie Musings + Ramblings website. A sampling from Sindelar's write-up of Roger Corman's Attack of the Giant Leeches (the 552nd movie he watched, on Sept. 18, 2002): "[The first] half is so reeking with a seedy, sleazy atmosphere that it is engrossing… Once this half of the story ends (rather horrifically), the movie starts concentrating on the three dullest characters in the movie… and though there are some interesting plot elements, it's hard to keep awake through these scenes."
Sindelar chooses the movies by consulting several reference books and
maintains a list of 1,000 films at any one time — what he calls his
"hunt list." He will "watch anything, regardless of quality, and
I've seen some truly wretched stuff," he says. "But the write-ups can
be fun when I cover a real stinker." How does he manage to find the
time to watch one movie every single day? "I'm not sure exactly how I
find the time, but I do," Sindelar notes. "I do have certain
strategies, such as keeping a portable DVD player handy if I know I'm
not going to be at home." Initially, the musings and ramblings of this
computer programmer and sometime actor appeared as just one of many
features on the www.scifilm.org website. However, Sindelar has been
running the entire site since October 2007, and it is now exclusively
dedicated to the "Fantastic Movie Musings + Ramblings" since he
had no time to update all the other features (reviews, news and a
forum).
Sindelar — who came to appreciate scifi via Ray Bradbury's books
and 1950s movies that popped up on his local Creature Feature
broadcasts — started his project on March 16, 2001, with a viewing of Abbott and Costello Meet Frankenstein (1948). His latest addition to the website: 1967's Santo vs. Baron Brakola,
which he saw on Jan. 23, 2008. (Technically, he's watched more than
2,600 movies so far, but there's a lag of a few months between the
viewing of the film and the posting of the write-up.) He favors classic cinema and loves it
anytime he gets to watch a movie "where an actor in a monster suit
stomps Tokyo." Sindelar's prepared to continue his movie-a-day project
indefinitely, "though that may change if my financial situation becomes
such that I can't afford to keep the movies coming in," he says. Right
now though, there's no endpoint, and he has no idea how long it will
all take.
Read More