Should Roman Polanski Be Allowed to Return to the U.S.?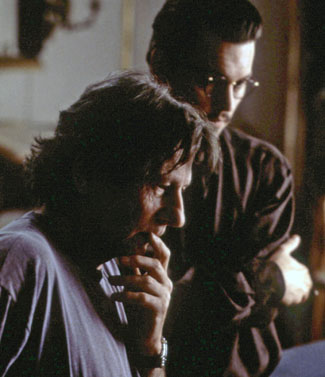 It's the scandal that keeps coming back: Roman Polanski's 1977 rape of a 13-year-old girl and subsequent flight from the U.S. before sentencing. The victim, the media, his supporters and critics revisited the issue in 2003 when the fugitive director was unable to return to Hollywood for the Oscars (he won Best Director for his work on The Pianist ). Now, a new documentary, Roman Polanski: Wanted and Desired, is putting the controversial case front and center again.
"Everyone is always trying to make it seem as if I made this as some sort of apology for him," says the documentary's director, Marina Zenovich. "Honestly, I was just interested in what really happened because people can't get past the charges or the fact that he fled." Zenovich, talking about the story on Shootout, says she has never met Polanski, but admits to being a huge fan of his work.
Both Shootout hosts, on the other hand, have known Polanski for years and and have their own views on the way things turned out. "I was involved really initially in trying to pull him into Hollywood to do Rosemary's Baby ," says co-host Peter Bart. "He was a party animal. He was very outgoing and very funny in addition to having an extraordinary mind. But at the center of him, there was a dark side, and the reason that he interested Bob Evans and me for Rosemary's Baby was because of that dark side."
Despite Polanski's childhood in the midst of the Holocaust (often
suggested as the cause of the artist's macabre sensibility), Zenovich
wants people to know that Polanski came to Hollywood with a lot of
hope. "That's never talked about," she notes. "Sharon Tate is always
someone who was murdered. She's never alive. They're never alive
together," she says, alluding to the murder of Polanski's pregnant wife
by Manson family members the year after Rosemary's Baby was
released. "I wanted to show that moment where he was on top of the
world to show how far he fell because we never know that."
While
Zenovich doesn't use those tragic events as an excuse for the reckless
behavior that followed, her film does show the failure of the justice
system to handle the celebrity's case. The facts and interviews with
the lawyers involved suggest that both the defense and the prosecution
believed probation would be sufficient punishment; the presiding judge
backed out of the plea agreement. (Polanski spent 42 days in a
psychiatric facility and pleaded guilty to unlawful intercourse with a
minor in exchange for time served). "This was the time of indeterminate
sentencing so he could have been sent away for six months to 50
years… all dependent on the judge," explains Zenovich. And Judge
Rittenband, portrayed in the film as a spotlight-hungry demagogue, gave
Polanski reason to believe he was facing the worst case scenario.
It's
been 30 years since he fled to France and, Samantha Geimer, the minor
involved in the claim, now 43 years old, has come to her own
conclusion. "I think he's sorry, I think he knows it was wrong," she
told Reuters. "He should have been given time served."
Should Polanski be allowed to return? Has justice been served?
Read More