Games, Polls & Quizzes
Ultimate Fan Quiz – Rob Reiner Results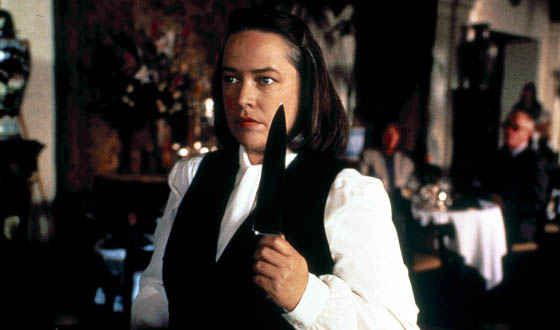 Ultimate Rob Reiner Fan: Miranda Tedholm
Hometown: Rockaway, NJ
Age: 25
Profession: "Grad student — studying cinema, of course!"
Miranda Tedholm knows a good director when she sees one. She was only four when her father took her to see The Princess Bride, which started her love affair with Rob Reiner's films. "His films seem to encapsulate a sense of joy and wonder about the world without being really saccharine or dumbed-down," she says. As for Reiner's other work, while Tedholm admits she's a bit too young to appreciate his "Meathead" days, she says that his mockumentary This Is Spinal Tap was groundbreaking for the genre, and as for Misery? Well, "Misery taught me to run — FAST — anytime someone claims to be my 'Number One Fan.'"
Ultimate Rob Reiner Fan Quiz Answers:
1. What was wrong with the recreation of Stonehenge in This Is Spinal Tap (1984)?
It was 18 inches tall instead of 18 feet
2. In addition to Stand By Me (1986), what other Stephen King property did he direct?
Misery (1990)
3. Reiner's mother has a cameo in When Harry Met Sally (1989). What classic line does she deliver?
"I'll have what she's having!"
4. Besides A Few Good Men (1992) what else did Reiner direct Jack Nicholson in?
The Bucket List (2007)
5. What was River Phoenix's character in Stand by Me doing when he was killed?
Breaking up a fight between two men at a fast food joint.
6. What kind of word play does André the Giant's character Fezzik enjoy in The Princess Bride (1987)?
Rhyming
7. Reiner and Billy Crystal worked together twice in 1987. In The Princess Bride and what other film?
8. Reiner's This Is Spinal Tap character, Marty DiBergi, is a parody of which famous Oscar-winning director?
Martin Scorcese
9. Which movies directed by his father, Carl Reiner, did he appear in?
Where's Poppa? (1970), Enter Laughing (1967)
10. What fellow TV-star-turned-movie-director was Reiner once married to?
Penny Marshall
11. Rob Reiner has played doctors in a number of films including The First Wives Club (1996) and For Better or Worse (1995). What are three others?
The Spirit of '76 (1990), Mixed Nuts (1994), Bye Bye Love (1995)
12. Which of Reiner's films served as the inspiration for a long-running television series?
13. What is his production company named after?
The town in Stand By Me
14. Which of his films did Roger Ebert call "one of the most unpleasant, contrived, artificial, cloying experiences I've had at the movies"?
North (1994)
15. How was he killed in the South Park episode "Butt Out"?
Cartman stabs him with a fork
Read More