Q&A: An Interview with Apocalypse How's Rob Kutner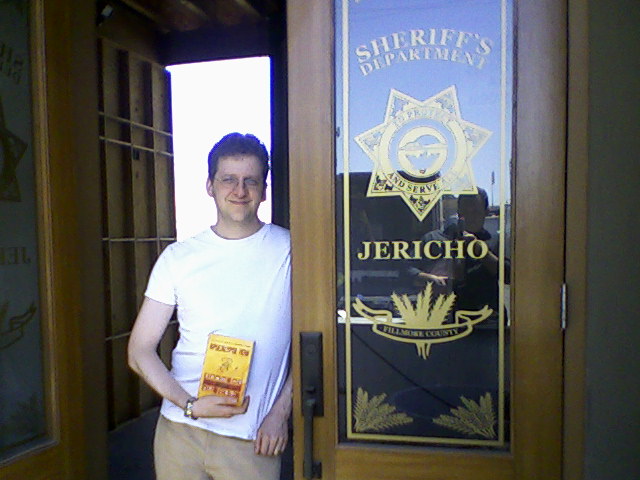 For years, science fiction has predicted the catastrophic end-of-the-world. So Daily Show writer Rob Kutner has put together a how-to on surviving Armageddon in his new book, Apocalypse How. The author talks to AMCtv.com.
Q: You must have watched a lot of post-Apocalypse movies for research — what were your favorites?
A: My favorite unexpected treat was On the Beach. Come on: Gregory Peck, Anthony Perkins, Ava Gardner and a non-dancing Fred Astaire? That whole sequence with the submarine sailor who's decided to go down irradiated and fishing in San Francisco Bay still haunts me. My favorite revisited delight was both parts of the V miniseries. I love that they went to the trouble to craft this smart, allegorical, well-thought-out epic — then at the end they were like, "Aw what the hell, let's just make the little girl magical."
Q: What were your least favorites?
A: I actually fell asleep during Left Behind — and not just because I already knew the ending.
Q: Did you ever get depressed having to think of all the different ways the world could end?
A: On the contrary. As my book argues, the world ending could mean a whole new beginning for a lot of people. Well, maybe not a lot.
Q: Much of scifi depicts the world post-apocalypse, but Apocalypse How is very much about transitioning from modern civilization.
A: Honestly, what I find the most fascinating are the post-apocalyptic scenarios where the people of the time try to make new meanings out of things familiar from our civilization. Like the cult worshipping the ballistic missile in Beneath the Planet of the Apes. I think we produce so much crap in our society, so little of it comprehensible or biodegradable, there's bound to be scads of religions that will spring up around each item. They say Twinkies are engineered to last hundreds of years — can you say "most delicious Communion ever?"
Q: Balancing comedy with science fiction isn't easy. Did you have any models or favorite writers that inspired you?
A: T.Coraghessan Boyle's good, if not strictly scifi. Ray Bradbury also has that light, but satiric touch. And Robert Heinlein has a great way of making distant scenarios deeply human. Even when they're Martian.
Q: Not surprisingly, a lot of end-of-the-world movies take themselves very seriously. Do you think any of them — say Damnation Alley or Waterworld — could be remade as comedies?
A: I think either one of those would be redundant as a comedy. With Damnation Alley, the only thing scarier than the giant cockroaches is George Peppard's horrible "Southern" accent. And is there anything more pleasurable than watching Kevin Costner even fictionally being forced to drink urine?
Q: What end-of-the-world scenario would you most like to live in?
A: Ideally, I'd like one of the temperature-lowering scenarios (asteroid knocks earth out of orbit, supervillain blows up the sun, nuclear winter) to take hold third week of December, so the Christmas book-buying season lasts indefinitely.
Q: Max Brooks' Zombie Survival Guide provides a how-to
approach to zombie self-defense, but he plays it pretty straight. Did
you ever find yourself straying away from the comedy?
A: Not really. For me, comedy acts as a kind of "electronic fence." I
don't know it's there, but if I stray too far way, I get a shock in my
neck.
Q: Should we expect a follow-up to Apocalypse How?
A: I'm planning a whole series: Apocalypse Who, What, Where, and if I run out of time, Apocalypse… Wait, When?
Read More