Uncategorized
Q & A – An Interview With Wall-E's Jeff Garlin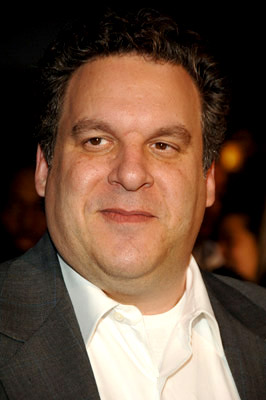 Jeff Garlin is best known for his role on HBO's Curb Your Enthusiasm as the faithful manager of sarcastic and cranky millionaire Larry David. Expect to hear more from him this summer — he's the voice behind the Captain in Wall-E and will appear in the comedy, The Rocker, out this August.
Q: How did you get involved with Wall-E?
A: Pixar called me up and had me over to the offices to give me a big pitch with storyboards and everything. They didn't need to do that — I mean, it's a Pixar movie! I play the Captain, one of the only speaking roles. It's like an old Buster Keaton movie. To have done what they've done, a
love story between robots without almost any traditional dialog, is a
feat.
Q: You're known for your improv skills. Did you go off script in Wall-E?
A: They let me adlib. We'd do a take and they'd say, "Go, ahead. Try
it your way." But what they had was so good, I didn't need to try and
make it better.
Q: What can we expect from the Wall-E video game?
A: You can play inside places that you only see in the movie. There are a bunch of worlds to explore; you fly around, you shoot things, you throw things. You can play as Wall-E or Eve. It's like you relive the movie. Plus, it's funny — what's not to like?
Q: What's The Rocker about?
Rainn Wilson from The Office plays a guy who was in a rock
band and got kicked out five minutes before they became famous. They
became huge, iconic, and it's ruined his life. Now, he's joined my
son's band. My character kind of wants to be a rock star.
Q: You directed John Waters' This Filthy World, his one man show, for DVD. How'd that happen?
A: It's rather simple: We both had the same agent. And we both liked
each other. The main challenge? If you ask me about the main challenge
of my independent feature, I Want Someone to Eat Cheese With , it was raising money. Main challenge with John Waters… don't have too much fun?
Q: Do you want to direct more?
A: Yes. But it looks like I'll have to do unfortunately a lot more
acting in television. I shouldn't say 'unfortunately,' I am going to
develop a sitcom. Hopefully, it'll make a splash and make people's
lives better. That's totally sincere. When you're watching a good
sitcom, like Seinfeld, you're laughing for 20 minutes. That's important. But I'd prefer to make movies, period.
Q: What do you really want to do?
A: If someone said, OK, Jeff, you can do anything, I would say I'd
like to make movies like Preston Sturgess and Frank Capra, big budget
movies that make a comment on the human condition, make people feel
better about themselves. So in terms of the grandiose path, that would
be it.
Q: Who's your favorite actor?
A: Walter Matthau. My favorite comedians are Jack Benny and Jackie
Gleason, Richard Pryor and Woody Allen. But I look at Matthau now and
say, I could still have that career — although I'm not as good as he
is and never will be. I love Walter Matthau, everything from Charley Varrick to The Odd Couple to Taking of Pelham One Two Three . He was unique and natural. I have a natural acting style. I hope my personality becomes as least half as distinct as his.
Read More