Meet the Reader – Dave the Samurai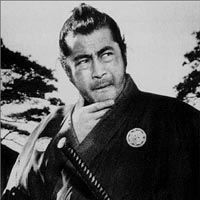 Name: David Chairez
Hometown: California originally, now Pacific Northwest
Age: 28
Profession: Private Chef
Dave the Samurai may construct the perfect plate for his paycheck, but one of his other passions is monsters. In fact, he builds models of them whenever possible, which isn't surprising considering what he has to say about his favorite films: "I like the '50s B-rated monsters because they were simple," he says. "I am always impressed considering the time it took for the painstaking puppet and model animation. I remember Saturday afternoons when I was kid watching monsters destroy cities… it was just amazing to see." That's one of the reasons Dave now tunes in to AMC, especially when late nights turn to Fear Fridays — King Kong, Frankenstein Meets the Space Monster, Motel Hell. "I love watching the great classic movies that I grew up with… when they used to put a good creepy old horror on, and you would end up going to sleep with a crucifix and a garlic necklace."
For Dave's part, they don't make movies like they used to,
which is why you'll often find him on the Talk forums passionately
arguing that "Horror today is just really gory butcher snuff films with
crappy plots."
Not that he doesn't find there to be exceptions: Dracula 2000 he says was well-plotted, if not a bit too short.
As you might expect from his name and chosen profile picture, Dave the Samurai's other cinematic passion lies in Kung Fu and Ninja films. His favorite movie ever, he contends, is the samurai classic The Lone Wolf and The Cub.
Ninja films, he says, are for Japan what Westerns are for America.
"What gets done here with a gun is done there with a sword. Watching
those movies for me is a great combination of cultures."
Meet the Reader is a new monthly feature on AMCtv.com. Do you
have a strong opinion about films? Share them on the Talk forums and
you could be next month's featured fan.
Read More