Masters of SciFi – An Interview With Incredible Hulk Screenwriter Zak Penn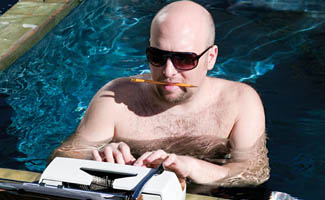 He may have broken into Hollywood with his comedy PCU , but Zak Penn is firmly ensconced in scifi with the screenplays for X2 , X-Men: The Last Stand , Elektra and The Incredible Hulk to his credit. Next up: Marvel's much-anticipated and highly teased Avengers movie. Penn took a moment to talk to AMCtv.com about Hulk and the difference between superhero and scifi.
Q: Ang Lee trumped your screenplay for Hulk in 2002. Is this version a revamp or totally new?
A: The script that I wrote for the first movie was very different — it's not the same as the movie you're going to see. But what it shares is my feeling that Hulk worked best with a kind of fugitive structure, where he's a man on the run constantly having to hide his secret. Also, I loved the idea that our hero can't afford to be anxious, and we live in a world filled with anxiety. Everywhere he goes there's tension: People talking on their cell phones, traffic, all the normal everyday things of life. There's sex and all the things that brings with it, and this is a story about a guy who has to avoid all that.
Q: How did you feel about the Ang Lee movie?
A: I loved the performances and I loved his stylistic choices. The thing I had a problem with was the story. Adding the whole plotline with his dad obscures what's really interesting, at least to me. I want to see a man fighting with himself, not a man fighting with his dad. So when we started over, I asked [Marvel Executive Producer] Kevin Feige how we were going to deal with the fact that they've already set up a story. And Kevin just said, "Let's ignore it."
Q: There has been some controversy about Ed Norton's role as writer and editorial critic. What's the story?
A: I was a big fan of Ed's work, and I pushed pretty hard when I heard that he was even available — I felt like he was the perfect person for the part. But when he came on, I was at a point honestly where I felt like I needed to take a little break from the movie. And as often happens with these things, Ed came in and had some strong feelings about changes he wanted to make and he did them himself. It's not like a giant mystery. It was pretty much your standard guy writes screenplay, other guy rewrites screenplay story.
Q: You worked on X-Men and Fantastic Four. What makes one superhero movie work and another flop?
A: Those X-Men movies are really, really tricky. It's like putting a puzzle together. But I always say they are closer to science fiction than superhero. I define superhero movies as being about a person who puts on a costume in order to fight crime. It's a very particular genre because it's about people who are inherently doing the right thing, whereas I look at the X-Men and the Hulk as much closer to science fiction, or in the Hulk's case, horror. X-Men in particular really benefits from that treatment. It was always about these very human people with some sort of very serious human flaw, and the very believable series of events, no matter how incredible, that turn them into something different.
Q: And Fantastic Four?
A: Is very much a superhero movie. For me, Fantastic Four is a pretty hard one to get around. I kept telling them that I really don't have the answer for this, because it is a superhero movie and I guess it's going to be a little bit campy no matter what we do, and I don't really know how to write that. I don't know that there's a version of Fantastic Four that adheres to those kinds of scifi rules.
Q: How are you going to tackle The Avengers then?

A: I felt that way about The Avengers until I read The Ultimates, which was one of the best comic books I'd ever read. I feel like that had a lot of influence even on the Iron Man movie. What that comic book did was it said, "What if there were superheroes? Let's stop playing it for silly and start playing it for real." And I think the problem with the Fantastic Four is that it's meant to be a fun-for-the-whole-family kind of adventure, whereas The Avengers doesn't need to be. I pitched The Avengers to them as a Tom Clancy movie with people who have superpowers, and I intend to follow through on that. Unless someone rewrites me.
Read More