Two Hollywood Icons Collide in Look Who's Talking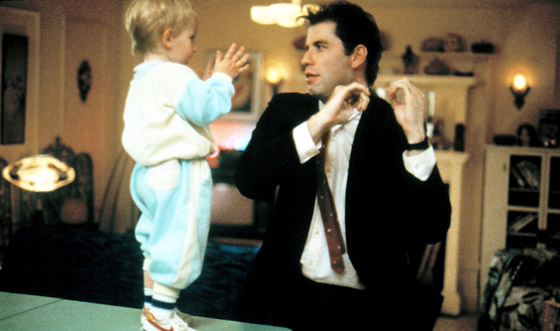 Bruce Willis and John Travolta have a lot in common: They're both manly, blue-eyed hunks who started out on television and made the unlikely leap to big-screen stardom. Since they're also contemporaries, it's not surprising that they costarred in two films — pop-cultural cornerstone Pulp Fiction and the mindlessly enjoyable Look Who's Talking.
When it was released in 1989, Look Who's Talking marked a pivotal moment in both of the actors' careers. Released a few months after his popular series Moonlighting wrapped, and a year after he helped launch the Die Hard franchise, Willis was on his way up. Voicing a wisecracking baby wasn't going to solidify his place on the A-list, but it was an easy gig that made use of his dry comic timing. Travolta on the other hand, was on his way down. After an astounding series of flops ( Staying Alive , Two of a Kind , The Experts ), he was desperate for a hit, and with Look Who's Talking, he found one.
Made for less than $10 million, the low-concept comedy about a cab
driver's romance with the single mother of a talking tot turned a high
profit, raking in over $140 million domestically. It also spawned two
sequels: 1990's Look Who's Talking Too and 1993's Look Who's Talking Now .
Travolta starred in all three, although Willis bowed out after number
two, a wise decision considering the series did not improve as it went
along.
In 1994, the duo reunited for Pulp Fiction and the rest is
Hollywood history. Suddenly Travolta was hot again and like Willis, he
left his talking baby days behind. But for that brief moment in 1989,
it was fascinating to watch the two men meet in the middle of the
ladder of success.
For a complete schedule of Look Who's Talking on AMC, click here.
To share your review of this film, click here.
Read More