Jewel of the Nile Marked the Demise of the SelectaVision Video Format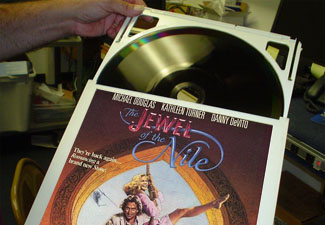 Of the different bits of trivia to Jewel of the Nile 's credit — hit soundtrack, off screen contract disputes — perhaps the most peculiar is its place in home video history, as the very last SelectaVision title.
Over the years, there have been many failed home video formats, from the much-maligned Betamax, to the recent "failure" of HDVD. But chances are, you don't remember SelectaVision, the first one available to consumers. Created in 1964, SelectaVision (as RCA called it) was essentially like a record, but for video. So, like a record player, there was an enclosed disc, an analog needle, and a high-density groove system. There were 60 minutes of recording time on each side, and numerous home video titles were released — many in letterbox, no less — starting in 1981, and ending, finally, with Jewel of the Nile in June 1986.
Given the number of titles released, the familiarity of a record-like system, and the novelty of viewing movies at home, why wasn't SelectaVision successful? Did Jewel of the Nile kill the format?
Not surprisingly, the demise of the format came down to sales. RCA had projected that by 1981, the SelectaVision
would be in 50% of American homes. But by the end of 1984, only 100,000
Americans had bought the player. The issue was not just price, but
quality: The rapidly degrading discs fell apart after several uses. SelectaVision was not the sole reason for
the demise of RCA, but the company lost an estimated $600 million putting their chips on SelectaVision, rather than the emerging, tape based VHS format.
Discussions of the history of modern video often ignore the
SelectaVision, and RCA's contribution to blazing the path, but a
simple search of eBay shows that not everybody has forgotten.
For a full schedule of Jewel of the Nile on AMC, click here.
To share your review of the movie, click here .
Read More