Iron Eagle's Aircraft Sport the Star of David Below the Stars and Stripes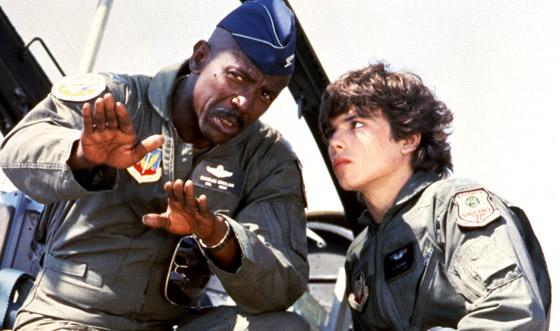 In our current high-tech blockbuster age, much is made of the military's close involvement with film productions — both Iron Man and Iron Eagle , a long-held Air Force policy necessitated the filmmakers fly solo.
Iron Eagle's plot famously involves a teenage boy, Doug, who commandeers two fighter jets in order to rescue his POW father from imprisonment in a vaguely defined Middle Eastern nation. Combine a hotshot '80s teen star (Jason Gedrick) with the esteemed Louis Gossett Jr. for high octane fun, right? The Air Force didn't think so — it has always refused to endorse any film that depicts an aircraft being stolen for fear of copycat action. (If a devil-may-care teen can do it, why not one of America's enemies?) As the entire plot of Iron Eagle hinges on Doug stealing a jet, this presented an obvious hurdle to the filmmakers. Solution: Turn to the more flexible Israeli Air Force.
All of the aircraft used in the film were of Israeli origin,
repainted with either the USAF symbol or fictional enemy tags. (For
example, the MIG-23s aircraft featured in dogfight scenes during the
film are actually Israeli IAI Kfirs.) And despite Doug's proficiency
with an aircraft — he handles a Cessna with ease during an early race
scene — the Air Force still refused to give their endorsement.
(Ironically, the film would go on to be a favorite of aviation-heads
for its many aerial battles.)
In today's sensitive climate, it would be risky for a major
Hollywood film to fly in the face of the military, especially a movie
that was competing against a rival with greater starpower. ( Top Gun , was released the same year.) But with blockbuster films facing criticism for acting like flashy recruitment videos (see Transformers),
it's interesting to remember a time when Hollywood wasn't actively
courting the Pentagon. Or perhaps, the Air Force just balked at
the idea of heavy metal music being blared from the cockpit of one of
their prized F-16s: Even Gossett's sure-handed guidance couldn't keep
Doug away from the siren song of Twisted Sister.
For a full schedule of Iron Eagle airings click here.
Read More