Hell's Ground DVD Review – A Pakistani Movie that Proves Horror Teens Are Dumb in Any Culture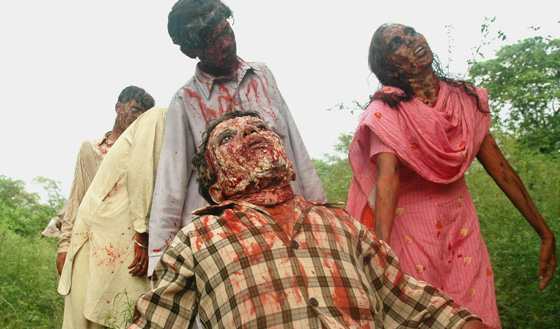 Hell's Ground DVD Review – A Pakistani Movie that Proves Horror Teens Are Dumb in Any Culture" width="560″/>

Pakistan is probably the last place on earth from which you'd expect a bloody, bruising, gut-crunching horror flick to emerge, but June 24 sees the domestic DVD release of Hell's Ground, a movie that has become Pakistan's most infamous motion picture export. Ice cream mogul and Pakistani film historian, Omar Khan, made this gory Texas Chainsaw Massacre -meets-the-Taliban flick on Hi-Def video with money from the Mondo Macabro video label, which specializes in rescuing Indonesian, Bollywood and Filipino horror films from obscurity. The film is overflowing with burqa-clad, mace-swinging lunatics, zombies and a gaggle of teens who head out to a rock concert and take a detour that leads them… into hell. Stuffed with old school Pakistani actors (such as Rehan from the 1967 musical version of Dracula, Zinda Lash) and soaked in gore scored from local butcher shops, this movie shows a side of Pakistan you won't find on CNN or the Discovery Channel.
Shooting during the rainy season when the Pakistani countryside erupts into radioactive green, with wild marijuana plants growing up to 10 feet tall, Khan managed to round up an impressive cast and crew for his flick, most of whom were eager to do something new. The plot is bare bones simple: Five teenagers who want to go to a rock concert hit the road in their Mystery Van. A protest against polluted drinking water is blocking their way, so they take an ill-advised detour through the countryside. Turns out that the problem with the drinking water is that it's been turning people into zombies. On top of that, there's a mysterious killer hidden inside a bloody burqa racing through the forest who wants to introduce his cast-iron mace to everyone's face. As buckets of blood fly from the screen, we learn an important lesson in geopolitics: Teenagers in horror movies are dumb in every country and in every culture.
Pakistan has a long history of horror, ranging all the way back into the '70s and '80s when movies like Adam Khor
rocked the box office. Director-historian Khan has said, "We don't have
songs or comedy sequences, none of the prerequisites of the South Asian
film. It's a complete ripping up of what's expected from local
productions."
Hell's Ground never got a formal release in
Pakistan, but it played plenty of illicit engagements and young people
flocked to it in riot-sized mobs. They took it to India, and young
people flocked to it there. In New York, where I programmed it as part
of the New York Asian Film Festival,
we were blown away when over a 100 well-dressed Pakistani kids showed
up at the movie's midnight show and proceeded to embrace this film like
a political cause. And, in a way, it is a political movie.
The
Bollywood and Lollywood film industries are conservative enterprises,
aimed at making innocuous, middle-brow entertainment that goes down as
smoothly as pudding. Horror movies are genuinely transgressive in
Pakistan and still have the power to shock: They're rowdy, they attract
crowds of teenagers and, therefore, they come with the whiff of danger.
Had it been made in Ohio, Hell's Ground might just seem like
another slasher flick, but in Pakistan it has near-revolutionary
potential, luring young viewers with its siren call of blood, and
energy and taboo-smashing fun. And beyond the giddy mix of politics and
horror, there are even more nefarious attractions in Hell's Ground
to lure the unwary and smash them over the head. While the movie may
not feature the world's first Muslim zombies, it definitely features
the world's first Muslim dwarf zombies. And that's something you're never going to find at your local multiplex.
Grady Hendrix is one of the founders and programmers of the New York Asian Film Festival. He writes about Asian film for Variety at Kaiju Shakedown and should have found something better to do with his life by now.
Read More