Site of the Week – Films Noir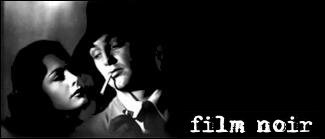 If you think noir is just for film fanatics or academics, think again. "The filmmakers of the '40s and '50s were not making 'film noir' movies," explains enthusiast Tony D'Ambra. "They were making pictures that had wide appeal and are still immensely entertaining." That his blog, Films Noir, averages 200,000 hits a month is a testament to that fact.
Back in May of 2007, D'Ambra wanted to create a "starting point for viewers new to film noir and those who were already hooked," a portal into the mysterious and sexy genre. Want to know where you can see noir on the big screen? He's got the info. (From June 6 to July 2 you can catch the Fox Film Noir Festival in Chicago.) Want to know when a classic is available on DVD? He'll tell you. Want his review? Done. Whatever you need, Tony D'Ambra is on the case. Let's just hope some dame doesn't distract him from posting.
While his past might not be as colorful as the ones that
haunt those in the films he loves, D'Ambra admits to having his share
of hard knocks. "I tend to pessimism, so I am attracted to a filmic
universe where fate can turn the tables on you dramatically." He became
interested as a child in the '60s, watching the movies on TV. "For a
working class kid in Sydney, the American city was a wonderfully
mythical place that held a strange, exotic fascination," he recalls.
"Tough guys like Humphrey Bogart, Jimmy Cagney and George Raft were
fascinating apparitions in a mysterious and dark universe that struck
some deep chord in my developing psyche."
Many of today's director's were influenced as well. "I see noir elements in many contemporary movies," says D'Ambra. "In Michael Clayton ,
the veneer of respectability of modern business is stripped away to
reveal corruption and moral turpitude — a perennial noir theme."
D'Ambra also sees noir in AMC's Mad Men. "I think it is the
best drama on television." (Oh Tony, flattery will get you everywhere.)
And although he has no idea what will happen in Season 2,D'Ambra says,
"One of the great themes of film noir is that you cannot escape a
haunted past, and only in confronting it can the noir protagonist have
a chance at redemption."
Will Draper find redemption? Will Betty
find happiness? Only time will tell. Meanwhile…back at Films Noir,
read about the visually stunning, popular stories, told in the shadows.

Read More