Dracula 2000 Put a Goth Spin on Literary Adaptations for Teens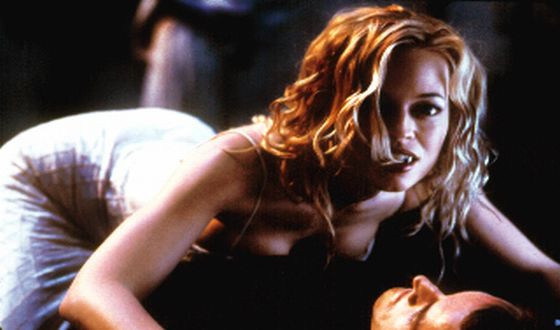 The late '90s saw a bevy of teen-friendly updates of literary classics. (You can thank or blame Clueless and Romeo + Juliet for that.) Yet while most of the time, Hollywood trained its eye on the staid stuff of English Lit classes (Austen, Dickens, Shakespeare), Dracula 2000 put a Gothic spin on the trend. Sure, 1987's T he Lost Boys introduced the idea of teen-friendly vampire hunters, but it wasn't an update of Bram Stoker's novel like Dracula 2000 was — and from executive producer Wes Craven, no less. Like its countless predecessors ( 10 Things I Hate About You , Cruel Intentions , O, etc.) Dracula 2000 reinterprets a masterpiece for a demographic weaned on Cliff Notes and MTV. It also follows certain rules of the teen-lit movie genre. Let's take a look at a few.
The Lead Character Must Be a Hunk
Such was the case with Leo DiCaprio in Romeo + Juliet and Ryan Phillipe in Cruel Intentions. So why not Dracula, right? Craven found his swarthy count in then-unknown Scottish actor Gerard Butler. Prior to Butler, Dracula on film
had ranged from the unsettling Bela Lugosi to the follically terrifying Gary Oldman. Finally, teens had a Drac they could pin up on their bedroom walls.
Cast a Teen Idol for Crossover Appeal
Time
and again, filmmakers have found that casting the "flavor of the
moment" teen sensation never fails to lure in the
youngsters. For 10 Things I Hate About You, the "it girl" of the moment was The Secret World of Alex Mack star Larissa Oleynik. With Dracula 2000,
Craven cast pop star Vitamin C, of "Graduation Song" fame. Both roles are notable for making their respective
actresses footnotes on I Love the '90s.
Pile on the References
If there's another thing teenagers love, it's easy-to-digest cultural references. (See the entire oeuvre of Meet the Spartans auteurs Jason Friedberg and Aaron Seltzer.) Dracula 2000
throws in plenty of (obvious) nods to the source novel, including a
play on the name of Stoker's character Lucy Westenra and a passing reference to
Dracula's home in Carfax Abbey (now the location of Van Helsing's
antique shop/vampire hunting office.)
Get Respected Actors to Slum It
Christopher Plummer's hammy Van Helsing fills this role nicely, joining the ranks of Pete Postlethwaite in Romeo + Juliet and Anne Bancroft in Great Expectations . Filmmakers believe casting venerable older thesps will lend credibility to the proceedings. Happily, in the case of Dracula 2000, it only adds to the camp appeal.
For a full schedule of Dracula 2000 on AMC, click here.
Read More