DVDs This Week – Dirty Harry, Semi-Pro and More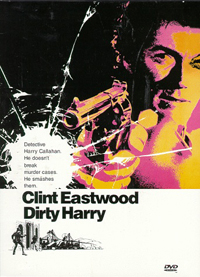 • The Dirty Harry – Ultimate Collection is a great chance to get caught up with an American Icon. Though there's no Eastwood commentaries or participation on the set, it includes chats with every other major contributor to the series, and is an essential part of any DVD collection. The movies will also be released separately as Special and/or Deluxe Editions, but without all of the extra bells and whistles.
• Will Ferrell stars as the coach of a second string basketball team in the 1970s, in Semi-Pro. As you might expect, much '70s-era goofiness ensues, as Ferrell tries to take his team into the majors by using increasingly outrageous stunts (fighting a bear, jumping a motorcycle over a line of cheerleaders). What you might not expect is a surprisingly grounded and hilarious turn by Woody Harrelson as the down-on-his luck "star" player of the team, who walks away with every scene he's in.
• Every major motion picture release from the past six months or so is skewered in the spoof movie, Meet The Spartans.
Other pop culture targets, from Britney Spears to American Idol are
also sliced and diced by the crack comedy team of Friedberg and Seltzer
(Date Movie, Epic Movie). Ostensibly a parody of 300, Meet the Spartans did well enough in the theaters that we'll be treated to spoofs like this well into the near future.
• You can be forgiven for never have heard of Flawless,
a crime drama starring Demi Moore and Michael Caine; the movie was
dumped in theaters about a month ago, but is already out on DVD. That
shouldn't deter you, though. The script by Edward Anderson, about a
soon to retire janitor in 1960s London who convinces a female executive
to help him steal their company's diamonds, is crackerjack. And Michael
Radford's direction puts a nice, neat bow on the package.
• Jessica Alba stars in the J-Horror remake, The Eye, as a
woman whose ocular transplant let's her see ghosts. Or maybe not.
Either way, the American remake is a surprising improvement over the
original, though the whole J-Horror trend may have reached its final
death throes with this flick.
Read More