Dementia 13 Review – Evidence of Francis Ford Coppola's Genius to Come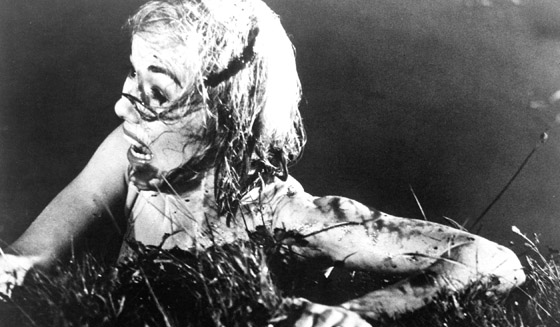 Dementia 13 Review – Evidence of Francis Ford Coppola's Genius to Come" width="560″/>

American International Pictures, the legendary exploitation studio run by Roger Corman, is famous not just for the speed of its productions ( Little Shop of Horrors — two days and one night of shooting), or its casts of aging stars and up-and-comers equally desperate for work ( The Terror paired Jack Nicholson and Boris Karloff), but for the directors who yelled "Cut!" for the first time while working inside Corman's speed machine. Martin Scorsese, James Cameron, Ron Howard, Jonathan Demme, Joe Dante and John Sayles are just a few of the future auteurs who got their start slaving for Corman; Dementia 13 was Francis Ford Coppola's turn.
Working as the location sound recorder on Corman's The Young Racers , Coppola had previously directed nudie cuties like The Bellboy and the Playgirls under a fake name and done some creative editing on some scifi footage purchased overseas by Corman. But Racers was shot in Europe and the penny-pinching Corman, who hated not getting his money's worth, suggested that Coppola — who had been begging for more work — stay behind in Ireland. It was 1963 and William Castle had seeded American audiences for stories of mysterious homicidal killers in movies like, well, Homicidal . In Italy, Mario Bava was in production on the Italian version of the slasher film, his giallo called The Girl Who Knew Too Much. But the movie that dragged these films into the mainstream was Alfred Hitchcock's 1960 Psycho , which gave wholesome American audiences a cross-dressing, necrophiliac psychopath they could love.
Coppola pitched Corman his movie the next morning and, after getting the green light (and $20,000), he spent a couple of days writing the script, stole the actors from the now-completed Young Racers and got to work. Shot mostly on location and spiked with sweet underwater footage, Dementia 13 (what does that title even mean?) kicks off with a midnight boat ride that sticks in the mind of any who see it. Fat Jack Haloran hops in his rowboat for a midnight paddle, rockabilly-blaring transistor radio in tow. His wife, Louise (Luana Anders, sporting a peroxide blonde haystack on her head), hops in after him, ranting about his mother's will, which will leave the Haloran fortune to charity. She doesn't stand to inherit a penny, especially not after Jack keels over 30-seconds later with a massive coronary. Louisa hides his body and flies to Ireland to visit his spooky family in their spooky castle. Mom's a freak, one of the sons is a neurotic and the other is a dark, brooding macho man who looks like he can't decide whether he wants to kiss his fiancee or just slap her around. Louisa quickly worms her way into the heart of the family, pretending to have a psychic connection with Kathleen, the dead little sister who drowned in the castle's lake. Next come the axe murders.
At the risk of sounding overly-dismissive, this is not a film that stands up well next to The Godfather — or even Jack .
Despite promising Corman that his movie would make audiences "sick,"
Coppola turned in a Gothic black-and-white flick that is heavy on mood
and light on blood, a fact that Corman addressed by hiring Jack Hill (Spider Baby)
to shoot the movie's most grisly scene, the groundskeeper's
decapitation. If you think that the story of the script being written
in two days is an exaggeration, a quick listen to the dialogue will
disabuse you of that notion. In fact, you might wonder if it's possible
to write lines this wooden and unnatural in two lifetimes, let alone
two days. But when Coppola is allowed to move his actors like puppets
and put together a set piece the way he wants, the film takes on a
compelling shine. The opening midnight rowboat ride is shot as if the
rowboat is the only sign of life in a dead universe, floating on a
massive, black void of a lake. The first scene that Coppola pitched
Corman, and the one that convinced the notoriously cheap producer to
open up his pocketbook, is Louisa's late night dive into the lake where
Kathleen drowned. It's as effective as you would imagine, carrying all
the surreal horror of the shot of Shelley Winters at the bottom of the
river in the chilling Night of the Hunter .
Dementia 13 was ultimately released in 1963 at the bottom of a double-bill with Corman's X: The Man with the X-Ray Eyes ,
padded out with an opening scene set in a psychiatrist's office as he
administers the "D-13 Test" to determine if viewers are psychologically
prepared to watch the movie. This stylish, stiff Psycho
rip-off is typical of the debut work that the other great directors did
for Roger Corman. Hampered by tight budgets, short shooting schedules
and Corman's demands that they deliver the goods to audiences hungry
for blood and boobs, these movies feel far more like Roger Corman films
than anyone else's. But if you look between the cracks, you'll see in Dementia 13 — as well as in the works of every other debut director in Corman's stable — signs of the genius that was to come.
Click here to see it for yourself. Dementia 13 is available online until Sept. 2008.
Grady Hendrix is one of the founders and programmers of the New York Asian Film Festival. He writes about Asian film for Variety at Kaiju Shakedown and should have found something better to do with his life by now.
Read More