Daily Scan: 06.18.08 – Len Wiseman to Direct Gears of War; Reviews of Space Vulture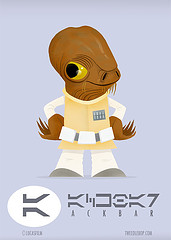 • Finally! Programmable love bots that kiss on command and can be shut off at any time! From Japan, natch. Sign me up for two.
• Len Wiseman will tackle the popular Epic Games scifi shooter Gears of War.
• It looks like the Incredible Hulk could well be the villain of any upcoming Avengers movie.
• Cinematical reviews Mystery Science Theater 3000: The Movie and seems surprised by the paucity of the extras. I'm not sure what they expect: It's basically an episode of the television show thrown on celluloid. Though some commentary on commentary on an old film would be gnarly.
• Charming ABCs for Star Wars. A is for Ackbar!
• To commemorate a maestro's death, a list of Stan Winston's greatest achievements.
• I love the cover of Luke Skywalker and the Shadows of Mindor.
• "It sounds like the setup for a joke: A Nebula-Award-winning author and the Roman Catholic Archbishop of Newark teaming up to write a pulp SF novel." SF Gospel reviews Space Vulture.
• Velvet Revolver scores The Fantastic Four.
Read More