Daily Scan: 06.17.08 – Stan Winston, RIP; Robert Downey Jr Signs Up for Cowboys and Aliens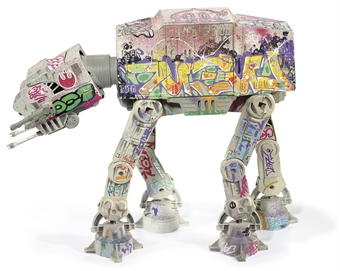 • Ain't It Cool News loves Pixar's Wall*E, calling it "arguably the best film Walt Disney has ever had its name on" and "one of the absolute best hard science fiction films made in my adult life." Granted, Knowles is an hyperbolic idiot, but that's still incredible praise.
• One of the best scifi monster makers in Hollywood history has died. RIP, Stan Winston.
• SF Signal posts 2001: A Pink Floyd Odyssey.
• Now you too can own everyone's favorite talking, Cylon-visored car… KITT is up on eBay for your nostalgic bucks.
• Robert Downey Jr. to play grizzled outer space gunslinger Zeke Jackson in Cowboys and Aliens, a space western that will hopefully be more successful than Firefly ended up being.
• And speaking of Firefly, starting June 19 you'll be able to see Serenity on the big screen at theaters all around the country, with proceeds to go to charity.
• Russell T. Davies was made an OBE by the Queen for his work on Doctor Who. Yeesh. Just in case Elton John's knighthood didn't already convince you that British titles had lost all dignity or merit.
• Behold! The imperial majesty of the Suckadelic Graff-AT.
Read More