Daily Scan: 06.05.08 – New X-Files Trailer; Walter Koenig to Serve as George Takei's Best Man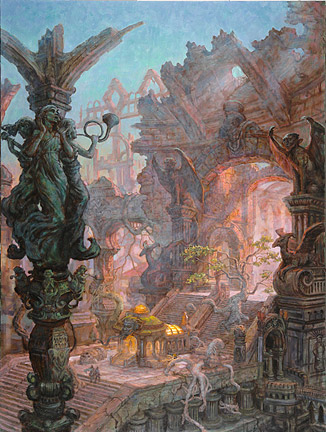 • There's another new trailer for X-Files: The Truth Is Out There which is about, I dunno, werewolves or something. This one's really hard to care about. Someone just send me the clips where Mulder and Scully suck face and I'll be happy.
• The latest SF Signal Mind Meld talks about the responsibility of cover art to the actual novel's plot and spirit. What about the responsibility of the novel to the cover art?
• Horror: A mash-up of Star Trek: The Animated Series and William Shatner's "The Common People".
• Subterranean Press has announced a new anthology edited by George R.R. Martin set in my favorite scifi/fantasy universe, Jack Vance's Dying Earth.
• McG on Terminator 4.
"Just like it took a long time to get an HD plasma screen in our world,
it took Skynet a lot of research and development to get to the T-800,
and this movie explores that "space between."
• SF Gospel: What it Really Means When an SF Author Says Religion Doesn't Exist in the Future.
• Star Wars meets Disney and births… Duck Maul!
• io9 speculates that Ridley Scott's new scifi movie could be an adaptation of Aldous Huxley's A Brave New World.
• The top 10 highest valued Star Wars toys.
• Is "Nuke The Fridge?"
the new "Jump the Shark?" Unfortunately, there were worse scenes by far
in the new Indiana Jones, like the one where a monkey helps Shia La
Boeuf fight the commies because the monkey liked Shia's haircut. That's
not exactly terse, though.
• Cinematical reviews Dreams with Sharp Teeth, a documentary about scifi's most beloved troll-like blowhard, Harlan Ellison.
• You know, I hate to admit it, but I agree with Michael Bay on this: Spanning one story over two Transformers sequels would be lame.
• Walter Koenig will play the part of George Takei's best man at his upcoming wedding! That's just awesome.
Read More