DVDs This Week – The Bucket List, Jumper, and More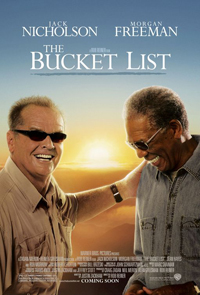 • There aren't a ton of movies out there geared towards older viewers, which is why this Morgan Freeman/Jack Nicholson-starrer is such a refreshing change of pace. Rob Reiner's The Bucket List casts the two actors as cancer patients with six months to live, who decide to attack a list of things they want to do before they "kick the bucket." More sweet than schmaltzy, the film manages to be uplifting, despite the grim subject matter.
• Scarlett Johansson, Natalie Portman, and Eric Bana sex up the story of Anne Boleyn, her sister Mary, and their affairs with King Henry VIII in The Other Boleyn Girl. Based on the enormously popular novel of the same name, the movie may not be one hundred percent true to history; but as a bodice ripping tale of political intrigue, it hits the mark.
• Loosely based on the series of teen novels of the same name, Jumper
posits that a secret society of teleporters lives among us… Star
Hayden Christensen doesn't do much to dispel the wooden acting
accusations that dogged him throughout the Star Wars
series, but the eye popping special effects, and non-stop action pacing
from director Doug Liman make this well worth checking out.
• Last year's most under-the-radar horror/romance/comedy mash-up, The Signal
hits DVD this week. Three directors tell three stylistically linked
tales about a day when everybody goes nuts after hearing a viral signal
from their radios and television. As the world collapses around them,
three sets of characters live, love, and die in the appropriately named
city of Terminus.
• The all-star, all improvised poker comedy The Grand
misses the mark more often than not. But a priceless turn by director
Werner Herzog as a creepy, pet-killing poker champ, and more cameos
than you can shake a stick at keep Zak Penn's film worth watching
throughout.
• There's no reason that Michael Haneke's shot-for-shot remake of his own Austrian thriller Funny Games should be successful (see Gus Van Sant's 1998 Psycho ),
but the English remake works just as well, if not better than the
original. Featuring a supremely creepy turn by Michael Pitt as a preppy
who holds Naomi Watts and Tim Roth hostage just for "fun," Funny Games is not for the faint of heart.
Read More