Before He Was Moff Tarkin in Star Wars, Peter Cushing Played Other Cold-Hearted Villains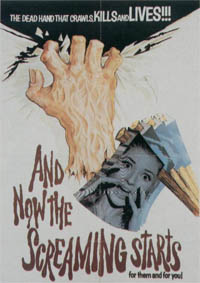 Most people know Peter Cushing as Grand Moff Tarkin, the vicious Outer Rim Governor from Star Wars: A New Hope, and one of the few to casually dismiss the almighty Vader without ending up on the business end of a force choke. It was through the role of Tarkin that Cushing achieved widespread fame as a man well versed in invoking fear. But with 20
years of classic horror roles under his belt, Peter Cushing was singularly prepared for the part of a cold-hearted fiend.
In 1957 Hammer Productions released The Curse of Frankenstein, and with it, kicked off a long line of films that have since become "required reading" for anyone expressing an interest in horrific history. Cushing played none other than Baron Victor Frankenstein, a role he would reprise again and again over the course of his career.
As the camp-heavy classics were cranked out by Hammer Productions, Cushing found himself roles similar to that of the misunderstood monster-maker Frankenstein; most notably as Professor Van Helsing in one of Hammer's favorite wells of spooky lore, Dracula. Cushing's imposing screen presence and razor sharp visage cut a balefule swath through two decades of classic horror, earning him a reputation as something of a creep. But in real life, Cushing was such a softie, one biography was subtitled "Gentle Man of Horror."
When, in 1973, Amicus Productions tried their hand at the Hammer Horror formula with And Now The Screaming Starts, Cushing once again found himself cast as the hard-nosed scientist. As psychiatrist Dr. Pope, his screentime doesn't start until half way in, but Cushing manages to be the best character in the whole movies. How many actors can you think of with the skill to turn an expendable role into a favorite? The list is short indeed.
For a full schedule of And Now The Screaming Starts on AMC, click here.
To share your review of the movie, click here.
Read More