Five Ways Animal House Changed America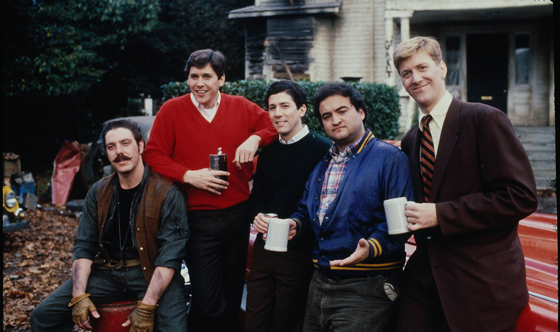 Tuns out, the Delta's "futile and stupid gesture" wasn't futile at all. Thirty years after its original release, the accidental accomplishments of Animal House are clear:
1. Without Animal House , Spielberg wouldn't have known about Karen Allen. Without Karen Allen there would be no Marion Ravenwood — at least, not the one Indy fans know and love. Spielberg said having her in the role made Raiders of the Lost Ark "an entirely different movie." Yeah, an awesome one.
2. Did someone say toga party? Let's not pretend the movie created
the idea, but it certainly popularized it, taking the idea from the
White House to the frat house. First Lady Eleanor Roosevelt organized
one of the first-known toga parties as a way to poke fun at her
husband's Caesar-like reputation. After Animal House came out in 1978, university students adopted the practice to escape the pressures of academia and to celebrate the movie. Time Magazine called the new campus craze a Bed Sheets Bonanza; it remains a college rite of passage today.
3. Imagine life without the trivia game 6 Degrees of Kevin Bacon?
It all started when, as Chip Diller, Kevin Bacon pledged Omega. Getting
spanked at the Omega initiation, the actor said, "Thank you, sir! May I
have another?" and Hollywood said yes, yes, yes. Several roles later,
college students (appropriately enough) created the game as one of
their "stupid party tricks." It, in turn, inspired Kevin Bacon to
create the charitable social network SixDegrees.org.
4. Jake Blues might have been born on Saturday Night Live but he was conceived at Faber College. No Bluto, no Blues Brothers.
On a break from filming, Belushi saw blues singer Curtis Salgado at the
Eugene Hotel Lounge. Impressed with both the artist and the blues, he quickly went from borrowing Salgado's albums to joining him on stage. Back in New York, Belushi and Ackroyd formed The Blues Brothers Band; albums and films soon followed.
5. The film's financial success encouraged its creators to continue making ridiculous comedies. From National Lampoon's Vacation to John Landis' Spies Like Us , they kept America laughing and Chevy Chase employed. And laughter is the best medicine: Watch Animal House and your blood vessels will function better.
For a complete schedule of this movie on AMC, click here.
To share you review of this movie, click here.
And to see a slideshow of Saturday Night Live stars in their breakout film roles, click here.

Read More