Sign up for the AMC Newsletter Today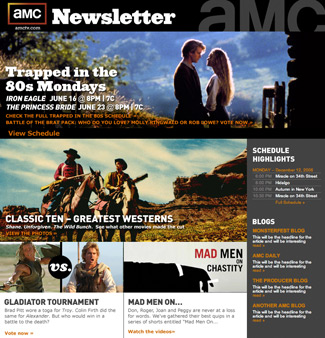 Need a reminder as to when your favorite classic movie is playing? Want the latest news on Mad Men Season 2? Itching for new celebrity interviews, movie polls, and interactive games? Then AMCtv.com's free monthly newsletter is just what you're looking for.
This month, find out more about Trapped in the 80s Mondays or vote for your favorite teen actors from the era in our Battle of the Brat Pack Tournament. You can also check out our Top 10 Westerns photo gallery, vote in our Gladiator Tournament and check out the quippy "Man Men on…" videos.
Don't miss out. Subscribe today!
Read More