With Wall Street, Oliver Stone Explored a More Sophisticated Form of Combat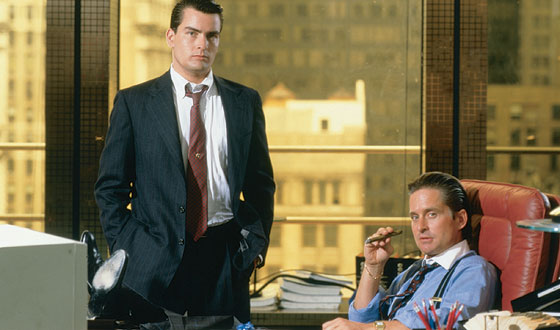 Writer-director Oliver Stone came to Wall Street directly after winning an Oscar for Platoon. "I ran into a lot of Vietnam veterans on The Street, and they all told me that it's an extension of combat," said Stone. "There is a certain high to closing a deal, to taking the enemy to a raid, to a merger and acquisition. The language is brutal, violent. Everything is there but the machine gun… So Wall Street is a chance for me to wean myself away from the blood cycle and go do a more domestic, possibly more sophisticated, form of combat film."
"Taking over a company is a lot like a military action," Stone insisted. "In those raids, they stay up for weeks on end on an adrenaline high, and a lot of their terminology is war terminology — 'We're in the kill zone here,' 'I'm going to rip his throat out.' I'm not talking about refined Morgan Stanley bankers, I'm talking about buccaneers."
Wall Street star Charlie Sheen also saw the correlation between high finance and military combat when he spent six weeks on the trading floors of Wall Street researching his role. "A lot of these guys on Wall Street consider themselves to be warriors. They say, 'I'm going off to war today,' and they're not kidding," Sheen said.
Stone examined the financial world by consulting with a wide
assortment of Wall Street players. Among his sources were raiders (Carl
Icahn, Asher Edelman and T. Boone Pickens), an insider trader (David S.
Brown, formerly of Goldman Sachs), senior investment bankers (John H.
Gutfreund of Salomon Brothers; Ace Greenberg of Bear, Stearns; Mike
Milken and Jeffrey Beck of Drexel Burnham), and prosecutors (Charles
Carberry of the United States Attorney's Office and Gary Lynch of the
Securities and Exchange Commission).
The most influential of
Stone's advisers was Kenneth Lipper, a former partner at Salomon
Brothers. Lipper had also worked as New York's deputy mayor under Ed
Koch, and would later, with Stone's encouragement, co-write and
co-produce City Hall. "Initially, I told Oliver I wasn't going
to do it," said Lipper. "I was worried. His views were so liberal and
I'm more conservative on the subject of Wall Street. I didn't want the
film to end up as a dump on The Street. But Oliver was first to say it
was a give-and-take situation. We had days of discussion — he let me
rewrite the script. There were major changes… but I was there to do a
job and it was Oliver's movie, so it was important not to fall in love
with my own expert advice."
"The movie isn't Wall Street
bashing," Lipper clarifies. "It starts with the premise that Wall Street
has a critical and necessary function, and that it has the ability to
heal itself… We've tried to show that there's been a disintegration
of the culture on Wall Street. As the industry grew, a lack of control
set in… Among many other things, the film is about the
depersonalization of Wall Street. The more anonymous it becomes, the
more it lends itself to this kind of behavior."
"Though it is
really a separate culture, all the feelings everyone has are there, in
this very special environment of Wall Street," Lipper added. "All the
universal emotions occur in a hyperbolic environment of money and
action. The intensity is like combat — the action, the speed, the risk
of losing big at any time. There's no other business where you know the
next moment whether you win or lose. If it goes up an eighth, down an
eighth, you always have a scorecard on yourself. People are under
incredible pressure to perform, and performance becomes so much a part
of one's self-esteem that they are driven to lengths that other people
are not tempted to."

Watch the DVD-enhanced version of Wall Street on May 4. For a complete schedule of this movie on AMC, click here.
To share you review of this movie, click here.
To read more about how Charlie Sheen Turned Into a Wall Street Player, click here.
To read how Oliver Stone's Stockbroker Father Inspired Wall Street, click here.
Sources:
Jerome Idaszak, "Acclaimed Director Turning Platoon of Cameras on Wall Street," Chicago Sun-Times, 4/8/87
Oliver Stone, "The Next Vietnam?" Us, 6/15/87
Guy D. Garcia, "In the Trenches of Wall Street," Time, 7/20/87
Steven Rattner, "From Vietnam to Wall Street," New York Times, 8/30/87
Peter Keough, "Wall Street Takes Inside Advice," Chicago Sun-Times, 12/13/87
Roger Ebert, "Oliver Stone In the Trenches of Wall Street," Chicago Sun-Times, 12/13/87
Alison Leigh Cowan, "Making Wall Street Look Like Wall Street," New York Times, 12/30/87
Arlynn Nellhaus, "Lipper Service," Jerusalem Post, 8/23/96
Read More