Violent Midnight Lets You Watch From the Killer's Point of View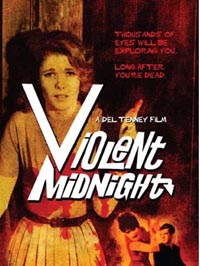 We love our privacy. Privacy provides us with safety and protection from the outside world,
but when given the opportunity to look into sneak a look at the private lives of others — especially as filmgoers — we are more then willing to watch.
In movies, voyeurism draws form different motivations. In Rear Window and Disturbia , the voyeurs are spying on neighbors to satisfy curiosity and to break the boredom of being confined in their homes. We see what Jimmy Stewart and Shia LaBeouf see, and connect with their characters and the experience, particularly when it involves something like… possibly bearing witness to murder. But that's nothing compared to the tension you feel when you're watching the action from the killer's point of view, whether it's Peeping Tom or Violent Midnight.
Luckily, these are just movies. Because those sorts of habits are
bad news in the real world — for both the watcher and watchee. According to the Encyclopedia of Mental Disorders, "Once voyeuristic activity is undertaken, it commonly does not stop.
Over time, it may become the main form of sexual gratification for the
voyeur. Its course tends to be chronic." Not surprisingly then, Violent Midnight's alternate title was Psychomania.
Catch Violent Midnight tonight — just draw the blinds first.
For a complete schedule of Violent Midnight on AMC, click here.
To share your review of this movie, click here.
Read More