Games, Polls & Quizzes
Ultimate Fan Quiz – Brad Pitt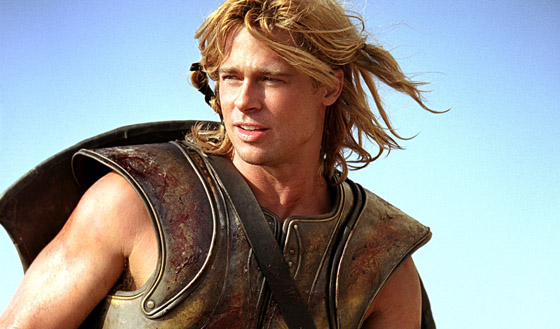 Sure, you know him from the tabloids and the multiplex, but heartthrob activist and ex-Friend-friend Brad Pitt can pull off action and accents, ensembles and epics — and he's been racking up producer credits as well. Take our Ultimate Fan Quiz to show how much you know about the once and future Sexiest Man Alive. Be the first person to correctly answer all 15 questions in our Ultimate Fan Quiz and you'll win a copy of A River Runs Through It.
The quiz runs from Friday May 30 to Friday June 6 at midnight, and the winner will be announced shortly afterward. (Make sure we have a relevant email address in your profile so we can contact you about your prize.)
If you win, maybe he'll adopt YOU!
1. Which Pitt film included a statement attesting to the safety of the fish that appeared in it?
2. What film was Pitt shooting when he met Angelina Jolie?
3. In the past, Pitt has been engaged to two other co-stars. Who are they and in what films did each of them appear with him?
4. What is Rusty's special skill in Ocean's Eleven ?
5. What injury does Richard's wife, Susan, sustain in Babel ?
6. In Troy, what gesture does Achilles make toward Briseis during both their first and last encounters?
7. Pitt has one Academy Award nomination to his credit. For which film?
8. What two Jim Harrison novellas round out the trilogy that includes Legends of the Fall?
9. In which film does Pitt's character smoke a pipe fashioned from a common pantry item?
10. What was Frank Harris' main mission in Cool World?
11. For what franchise did Pitt dress as a giant chicken before finding success as an actor?
12. Which Pitt film was first criticized and then effusively praised by the author from whose work it was adapted?
13. How many times has he been named People Magazine's "Sexiest Man Alive"?
14. With which director has Pitt made the most films?
15. What 1995 film is widely believed to have been inspired by its director's work with Pitt?
Need help? Tune into Troy. For a full schedule of the movie on AMC, click here.
Read More