Tribeca Film Festival – Sports Day's Stories of Competition; Test Your Own Skills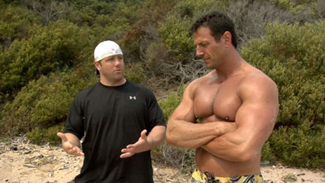 Today is Sports Day at the Tribeca Film Festival. That means not only will the ESPN/Tribeca dream team be screening stories of competition and triumph, there will also be a variety of games and demonstrations for fans to check out.
Movie-wise, the day's top picks include Kicking It, an inspirational documentary narrated by Colin Farrell about the soccer matches of the 2006 Homeless World Cup, and Fighter, about a high school student who goes against the wishes of her family to study martial arts. The girl is Turkish, the setting is Copenhagen, but the film is universally appealing. Also on the schedule is Bigger, Stronger, Faster (pictured), a documentary about sports and steroid use.
If you're looking for a different arena of competition, try The Chicken, the Fish and the King Crab, which follows the Olympics of haute cuisine, the Bocuse d'Or. Expect to be horrified and hungry at the same time.
The second annual event also promises to deliver games, activites and pro athletes. So if you can't score tickets to the movies, you can meet Mr. Met, or test your three-point shooting skills and the speed of your slap shot.
As part of the festival's sports programming, fans voted earlier this week for their favorite football movie. We Are Marshall stomped the competition — poor Rudy couldn't hold his own against an entire team of underdogs.
Think the match was thrown? Vote in the AMC Poll: The Greatest Sports Movie (1975 – present).

Read More