The Karate Kid Movies Have The Best Soundtracks of All Time… Really!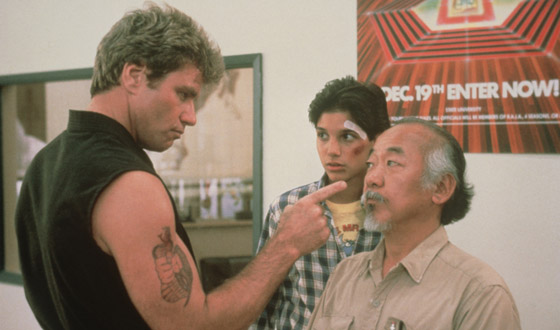 Given that there have been some pretty amazing soundtracks in the history of film, it's a pretty bold statement to call any particular one the best. You could look at movie musicals, like West Side Story , or The Wizard of Oz , and say those were the best soundtracks. Or, you could talk about movies with famous scores, like Star Wars .
But we're not talking about the most timeless tunes. We're not talking about the most heartbreaking music or the theme song that perfectly captures a character's soul without a line of dialogue. No, we're talking about the Best Soundtrack, and in this case, that's determined by the music that kicks the most ass. The music that you secretly blast in your car. This is what makes the Karate Kid soundtracks so glorious… Not a level of quality, but a level of human happiness delivered. How it won the title as Best Soundtrack Ever comes down to two simple songs: "The Glory of Love" and "You're The Best."
There are a lot of other amazing songs on the Karate Kid
soundtracks. In fact, they're like a museum of Best: from the American
debut of Bananarama's "Cruel Summer" to
Survivor's classic "Moment of Truth." Karate Kid even has the only recorded appearance of The Matches with "The Ride," one of the Best Dude Anthems ever. Ultimately, however, there are two songs that define the Best here, and they are "The Glory of Love" and "You're The Best."
Let's start with "You're The Best," which is so on-the-nose it
almost hurts. Joe Esposito's anthem is perfect '80s montage music, and
there's a good reason for that. The song was originally supposed to
be used for Rocky III ,
a film series defined by its anthems. And like any artistic achievement, its
greatness is defined by how its been parodied. This one has a memorable
sequence on South Park and another no-less-funny but poignant one in the documentary The King of Kong: A Fistful of Quarters
to its credit.
On the opposite end of the spectrum, there's "Glory of Love," a
song so much better than any other song, that even the Academy Awards
and Golden Globes were unable to deny its greatness, both awarding it Best Original Song in 1987. Interestingly, "Glory of Love" was
originally written for Rocky IV . Just as an exercise, name the best songs from Rocky III and IV. You can't, right? That's because Karate Kid has them!
To re-experience the music (with images no less) check out AMC's full schedule of The Karate Kid.
To share your review of the movie (or the soundtrack), click here.
Read More