The 411 on Gossip Girl Creator's X-Men Prequel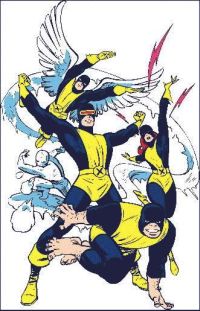 Black Book Magazine just reported that Josh Schwartz, creator of The O.C., Gossip Girl and Chuck is working on an X-Men prequel.
Schwartz said of the project: "I'm very well aware that I'll be bludgeoned by purists, but I love its mythology…It's not like I'm adding new characters like Toaster Head, or anything like that." He went on to take a shot at The Incredible Hulk saying, "The Hulk looks like it's going to be terrible. And why does he look like he's fighting against the monster from Cloverfield?" Black Book later issued a correction to their story, saying that some of the quotations were "erroneously reported." Perhaps an attempt on Schwartz's part to make peace with Marvel after that crack about Hulk? You wouldn't like Marvel when it's angry, Mr. Schwartz.
Before you go angrily texting your friends, consider that Schwartz
is a big comics fan (he frequently referenced Brian Michael Bendis and
other comic book creators on The O.C.) and his witty dialogue could be just what the X-Men franchise needs after the Brett Ratner-ized X-Men: The Last Stand . And with the X-Men Origins banner getting a kick-off with next year's Wolverine, it makes sense that we'd eventually get a film that delves into the backstories of all of the X-Men.
Still, after his uncredited rewrites on the first X-Men ,
it would be nice to see that other fan-favorite TV
multi-hyphenate adapt his excellent comics work into film. Mr. Whedon,
how about an Astonishing X-Men film? Pretty please?
Read More