Symphony Orchestras Tackle Video Game Music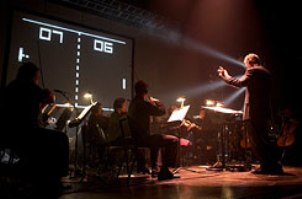 In the old days, people rarely played video games for the music, but thanks to DDR, Guitar Hero and Rock Band, it's now front and center, inviting critique and inspiring musicians to find new ways to participate. Video Games Live is just such an endeavor, bringing the sight and sound of classic games like Sonic and Halo into the symphony hall, complete with light show and live gameplay.
If that's too highfalutin' for your tastes, there are always alternatives that pack more punch. The Minibosses have been rocking it old school for longer than many new gamers have even been alive, carrying the music of Mega Man, Castlevania, and many others to new awesome heights. Considering how embarrassingly often I have the original Super Mario theme stuck in my head, I'm grateful to both groups for doing what they can to revolutionize these earworms from my adolescence.
Read More